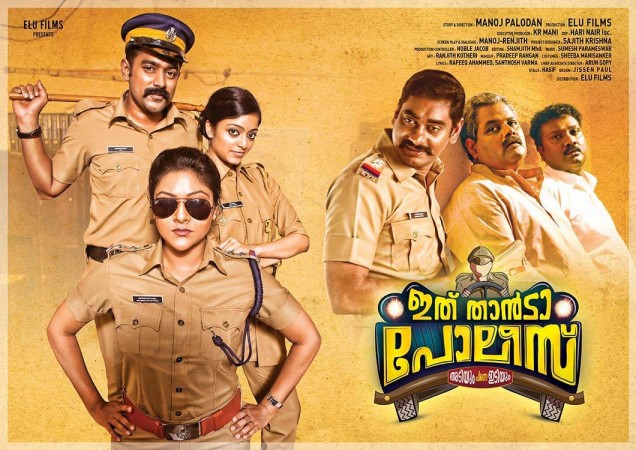 Asif Ali's latest movie "Ithu Thaanda Police" released in 73 screens Friday, March 18, locking horns with Prithviraj Sukumaran's "Darvinte Parinamam" at the Kerala box office.
After being part of many new-generation movies, Asif has played a police officer for the first time in his acting career in this film. The directorial venture of debutant Manoj Palodan, "Ithu Thaanda Police" is touted as a family entertainer, and is set in the backdrop of a women's police station. The movie narrates the story of lone male driver Constable Ramakrishnan, working amidst 11 women police officers.
Also read: Darvinte Parinamam audience review
Actress Abhirami is making her comeback to acting with the role of Sub Inspector Arundhati Varma in the cop movie, and will be seen alongside Janani Iyer, Sajitha Madathil, Sruthi Lakshmi, Krishna Prabha, Sneha and Neena Kurup, among others. The movie, which was earlier titled "Driver on Duty," also has Sunil Sukhada and Sudheer Karamana in significant roles.
Manoj and Renjith have written the screenplay and dialogue of the movie. While Sumesh Parameswar has composed the music, Rafeeq Ahammed and Santhosh Varma have penned the lyrics of the songs, which received good response from the audience. "Ithu Thaanda Police" has been produced under the banner of Elu Films.
Check out live audience review of "Ithu Thaanda Police" here:
Malayalam Review ‏
#IthuThaandaPolice Interval Poor First Half Dear Asif Ali :( :( Below Average 1.5/5 Stay Away
Shafi Salim
‪#‎IthuThaandaPolice‬
1 half Pwolichu :)
Comedy :)
Asifikka Kalipp :)
Direction Good Manoj palodan ✌️

Lee
Watched the first half of Ithu Thaanda Police. Its going gud.