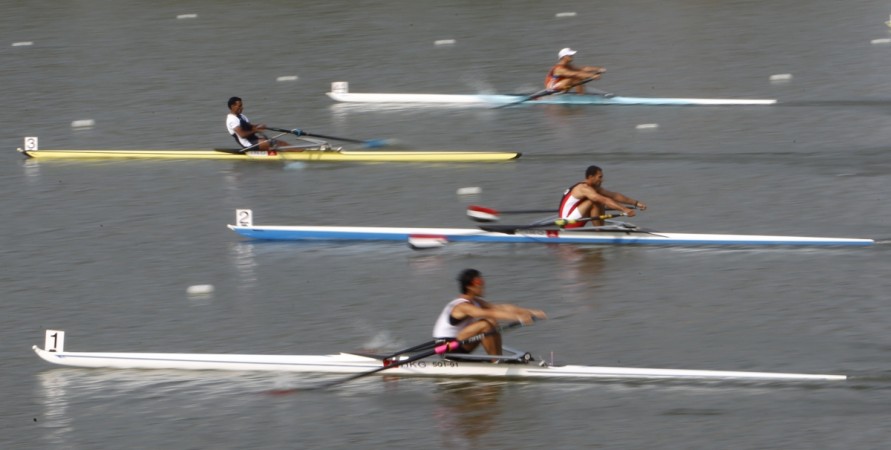 Indian rowers advanced to the final round in the men's eight event after a convincing performance at the Chungju Tangeum Lake Rowing Center at the Asian Games.
India finished second behind China with the winners coming in at a time of 5:46.01. The Indian team that includes Bajrang Lal Takhar, Robin Ulahannan, Ranjit Singh, Sawan Kumar, Mohammad Azad and Maninder Singh took 5:53.58 to cover the distance of 2000m.
The Indian rowers were third midway through the race but soon recovered to finish second later on.
The five Indian rowing teams in the heats have qualified for the next round that is to be held on September 24-25.
Om Prakash and Baban Bhokanal Dattu finished third with 6 minutes and 41.67 seconds in the men's doubles sculls heats. They will next compete in the repechage round.
In the men's singles sculls heats, Sawarn Singh finished second on Sunday to also book a place in the repechage round. He took seven minutes and 10.65 seconds to complete the 2,000m race. Iran's Mohsen Shadinaghadeh stood first with a timing of seven minutes and 8.21 seconds.
The Indian team of Rakesh Raliya, Vikram Singh, Laxmi Narain Sonu, Shokendar Tomar finished fourth In lightweight men's quadruple sculls heats. They recorded a timing of 6 minutes 20.09 seconds to cross 2,000m mark. They will also contest next in the repechage round.
In women's quadruple sculls heats, India stood fifth to qualify for the repechage round. The women's team, which includes Amanjot Kaur, Sanjukta Dung Dung, Narengbam Lakshmi Devi and Navneet Kaur, finished the race in 7:26.50.
Schedule of upcoming rowing events:
September 24, 2014:
6:30 – Men's Lightweight Sculls (Singles & Doubles)'
6:50 – Men's Quadruple Sculls
7:10 – Women's Pair
7:25 – Men's Lightweight Sculls
7:40 – Women's Double Sculls
7:55 – Men's Lightweight Double Sculls
8:10 – Women's Lightweight Quadruple Sculls
8:25 – Men's Quadruple Sculls
8:40 – Women's Single Sculls
September 25, 2014:
6:30 – Men's Sculls (Double and Single)
6:50 – Men's Lightweight Quadruple Sculls
7:00 – Women's Quadruple Sculls
7:15 – Men's Double Sculls
7:30 – Women's Lightweight Double Sculls
7:45 – Men's Single Sculls
8:00 – Women's Lightweight Single Sculls
8:15 – Men's Lightweight Quadruple Sculls
8:30 – Men's Quadruple Sculls
8:45 – Men's Eight