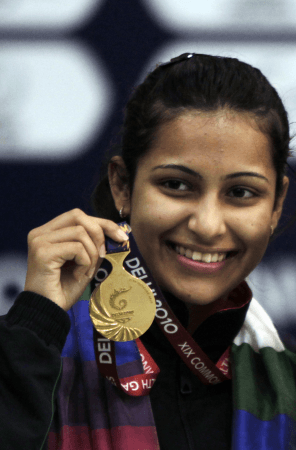 Shooting continued to bring more medals for India in the 17th Asian Games, with the Indian women's team shooting down a Bronze in the 25m pistol category at the Ongnyeon International Shooting Range, in Incheon, South Korea, on Monday.
The Indian women's team, that consisted of Anisa Sayyed, Heena Sidhu and Rahi Sarnobat finished third in the event, to clinch the bronze medal for their country. Rahi and Anisa took the initiative in the rapid fire round, while Heena performed well in the precision rounds, helping India to another medal.
"There was a lot of pressure as we knew that me and Rahi had to do well in rapid fire as Heena is new to this format," Anisa was quoted saying, by The Hindu.
"It is my first Asian Games medal and I am very happy because otherwise people would have said that we did not deliver despite being rapid fire experts."
Amongst the Indian shooters, Heena scored 572, Anisa scored 577 and Rahi scored 580, giving the Indians a combined score of 1,729.
The South Korean team finished first in the event, clinching the gold medal with a total score of 1,748, while China finished in the second spot, clinching the silver medal, with a score of 1,747.
Indian women finish 6th, China stripped of gold and world record
Meanwhile, Indian troika Ayonika Paul, Apurvi Chandela and Raj Chaudhary failed to win any medal after a disappointing performance in the final round.
The Indians finished sixth in the women's 10m air rifle team event, scoring a disappointing total of 1239.1 in Incheon on Monday.
In an interesting turn of events, the Chinese team were stripped of their world record and gold medal, after one of the shooters was disqualified. The Chinese team notched up a total score of 1253.8, beating their own former world record by 0.1 point, to finish in the gold medal position.
However, Chinese shooter Zhang Binbin was later disqualified for using equipment that is unauthorised for this event. Subsequently, the Chinese tam was disqualified, and stripped of the gold medal and world record.
Iran (1245.9) moved up from the silver medal position to the gold medal one, while South Korea (1241.6) and Singapore (1241.1) were promoted to the silver and bronze medal spots, respectively.