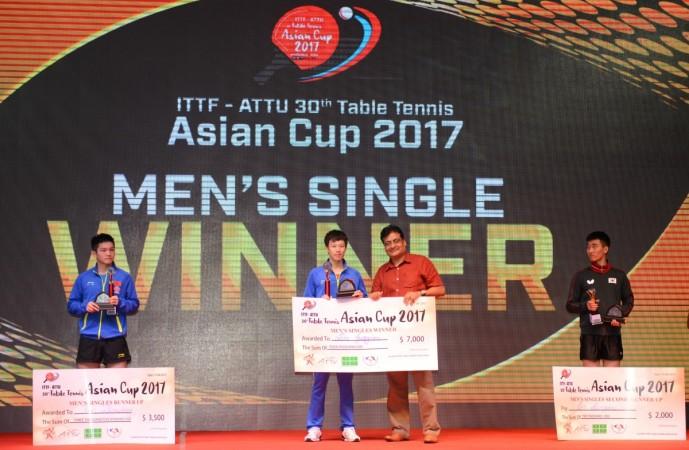 Ahmedabad, September 17: China's Lin Gaoyuan and Zhu Yuling were crowned champions at the 30th Table Tennis Asian Cup here today (September 17).
World number 29 and seventh seed Lin upset compatriot and top seed Fan Zhendong (world number two) 4-2 (11-7, 7-11, 11-4, 9-11, 11-5, 11-5) in the men's singles final.
Zhu edged Liu Shiwen 4-3 (6-11, 11-9, 11-8, 10-12, 11-7, 11-13, 11-6) in a thrilling women's singles final.
Both Lin and Zhu won their maiden Asian Cup titles. Tournament favourite and two-time runner-up Fan was off colour in the final as he went down to the 22-year-old left-hander Lin.
World junior champion Zhu had entered the final without dropping a game. But it was not an easy passage in the last match.
Sunday crowd packed the stands to the full at The Arena by TransStadia and they were not disappointed as Zhu and Liu played out a high quality contest.
World number four and second seed Liu, the defending champion, started off with a convincing 11-6 win. But Zhu was not the one to give up easily.
22-year-old Zhu, the top seed, rallied to take the next two games 11-9, 11-8 not before a hard fought battle.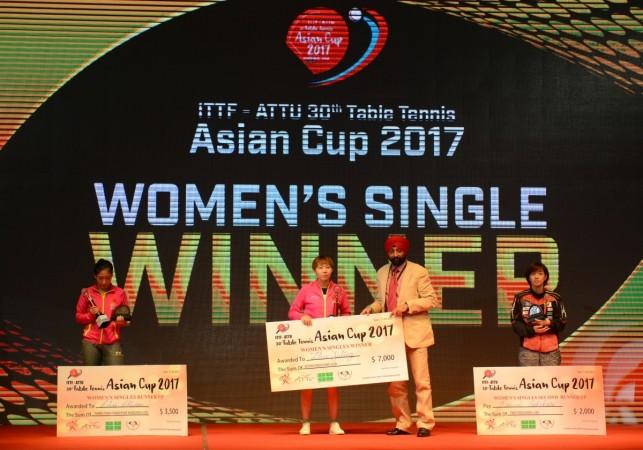 Fast-paced long rallies enthralled the fans in Ahmedabad and loud cheers came both players' way.
World number three Zhu, preferring to use the backhand more, was edged in a thrilling fourth game exchange where 26-year-old Liu won 12-10.
It was 2-2 and the contest was getting exciting with three more to play. The next two saw both players pocket one each and the now headed into the seventh and deciding game.
Zhu dominated the final game and took her first Asian Cup trophy with an 11-6 scoreline.
It was a superb comeback by Zhu, nicknamed "Piggy", after losing the opening game.
The top three finishers qualified for next month's World Cup.
Results
Men
Final: Lin Gaoyuan (China) beat Fan Zhendong 4-2 (China) (11-7, 7-11, 11-4, 9-11, 11-5, 11-5)
Positions 3/4: Lee Sangsu (Korea) beat Chen Chien-An (Chinese Taipei) 4-1 (11-7, 11-7, 10-12, 11-3, 12-10)
Women
Final: Zhu Yuling (China) beat Liu Shiwen (China) 4-3 (6-11, 11-9, 11-8, 10-12, 11-7, 11-13, 11-6)
Positions 3/4: Kasumi Ishikawa (Japan) beat Miu Hirano (Japan) 4-3 (9-11, 7-11, 11-9, 11-8, 11-3, 9-11, 11-8)