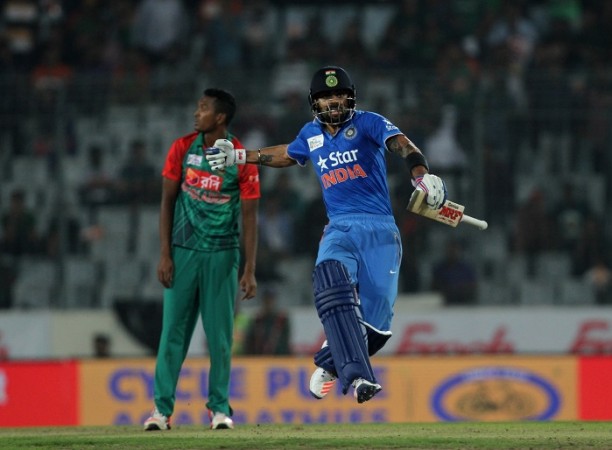 Virat Kohli is a name that sends shivers down the spine of any bowler across the globe in any format of the international game.
Yes, the India vice-captain has been going through a purple patch and is acting like an alchemist in this current Indian cricket team set-up.
Kohli was outrageously good during the Australia series and was rested during the T20 series against Sri Lanka. He himself had asked for that break so he could prepare for the Asia Cup and deliver for captain MS Dhoni again.
He averages over 80 in the Asia Cup but till date, the tournament being played in the 50-over format. But with the ICC World T20 2016 in sight, the organisers turned it into a T20 event.
In spite of that, Kohli finished the Asia Cup T20 2016 with an average of over 50. He has all the reasons to be happy, and why should he not be?
"I am happy I am contributing at the right times for the team. There were a lot of speculations about me when I took rest for the tour against Sri Lanka. There were all sorts of articles and things written about me questioning whether it was a right move to rest at that point of time," Kohli was quoted as saying by the official website of the Board of Control for Cricket in India (BCCI).
"There was a lot of negativity around that decision that was made, but I knew that mentally I needed a break and needed to refresh myself and comeback and do the same thing over and over again.
"Good habits are really hard to create and once you get them, you need to be in full flow and continue them day in and day out. I think that break really helped me focus again and continue what I did in Australia. I am really glad I could contribute in all the games here."
Kohli had said earlier he cannot hit big sixes, and hence focuses on hitting more boundaries. His ability to thread fielders on the ground is incredible, and has helped in his batting as well. There are very few like Kohli who can judge and assess fielders with such immaculate perfection.
"It is very important to assess the field. I have seen people mark fielders on the ground and I never understood why till I actually started paying attention to these minute details. As a batsman, you actually calculate how far you can hit the ball from the fielder," Kohli added.
"It is very important to judge where the fielders are so that you can pick your gaps and execute what you want to. You have a clearer plan when you know where the fielders are and you can hit the ball in the gaps rather than just taking a risk and trying to hit over the line."
"Hitting the ball over the line is a chance you take, but once you are hitting the gaps, it is very important to know where the fielder is standing."