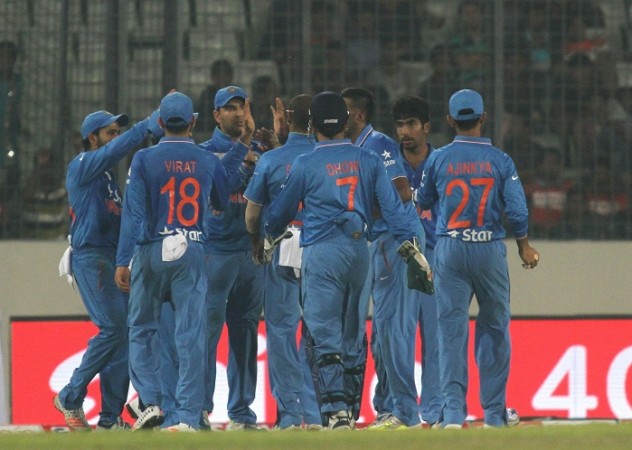 India will face defending World T20 champions Sri Lanka in their third fixture of the Asia Cup T20 2016 on Tuesday at the Shere Bangla National Stadium in Mirpur, Dhaka.
The kind of form India are in currently, they can easily stamp over a listless Sri Lanka side. But India off-spinner Ravichandran Ashwin has urged Team India not to take their opponents lightly in the remaining two matches ahead of the final.
If India manages to clinch yet another victory against Sri Lanka, they will cruise into the final of the Asia Cup 2016, which will be played on March 6, at the same venue.
India have now won seven out of their last eight T20 matches and will look to add on to that momentum when they will take on the wounded Lankan Lions, who were completely outclassed by hosts Bangladesh last Sunday.
Previously, Sri Lanka somehow managed to win against the new entrant UAE in their first game of the Asia Cup. Ashwin feels if India let release the pressure off the opponents, it will help them bounce back as they are desperate to win and stay afloat in this tournament.
"There is a familiarity since only 10 teams play international cricket and once you have played couple of years, you are familiar with each opposition. Sri Lanka is a team we have played a lot and they can punch above their weight and play as a pack," Ashwin was quoted as saying by PTI.
"The kind of cricket we play is what's going to put us in best shape possible. We are looking at longer season of T20 in the next 3-4 months crossing the IPL. Opponent doesn't matter, not disrespecting anyone but we have to treat everyone with same respect."
Ashwin also threw more light on Virat Kohli's incredible innings against Pakistan that steered India to a comfortable victory against their arch-rivals.
Click here for the schedule.
"We needed someone to stick his head out as Amir was going through a really good spell. We needed someone to show intent. Virat showed that intent while defending as well as attacking, which gave the dressing room a lot of comfort," Ashwin added.
"Obviously, we knew that with a 20-30 run stand, the match will be over as it was not a huge score. From that perspective, Virat showed a lot of guts and courage and that was very encouraging."
Ashwin feels that it is good for Team India that they are getting tested ahead of the ICC World T20 2016, which is in the horizon. They need to know the urgency of defeating the conditions and not the other way round just as it happened in the first T20 of the three-match series against Sri Lanka in Pune, ahead of the Asia Cup.
Click here to know about the Key Battles.
"It is very important to know what conditions are thrown at you. You can't try and beat the conditions. It is very important to go back and understand that it will not spin a lot on these surfaces. That's why it is even more imperative that we try to bowl in good lengths, get away with our overs rather than looking to go for wickets," Ashwin said.
"In T20 format, it is the pressure that gives you wickets rather than exact skill of the ball. That's what I look to do and when there is any window to attack I will attack irrespective of the wicket."
"It's T20 cricket, we might have slower wicket, flatter wickets in World T20.We have to understand situation rather than complaining about it. Testing ourselves in various environments is good for us," Ashwin added.
Click here to know about the Players to watch out for in tomorrow's game against Sri Lanka.