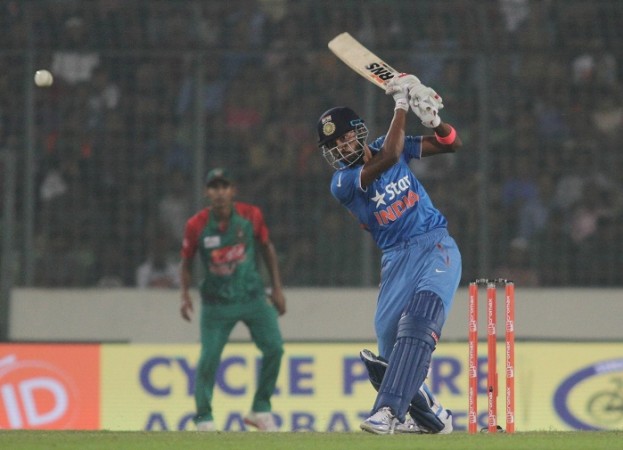 Finishing a limited-overs game was one of the issue that India had for a while. But now it seems scoring at a run rate of above 10 is not a big deal for India, thanks to an all-rounder who is making a name for himself.
Hardik Pandya has not wasted much time to prove his worth in the international game. Having impressed previously, Pandya again showed his talent in the first match of the 2016 Asia Cup T20 against Bangladesh.
Coming into bat in the 15th over, Pandya played an innings to remmeber to help India post a big total.
A set Rohit Sharma was already going hammer and tongs from the 11th over. But, India needed a late flourish from someone and Pandya did exactly what the doctor ordered.
The duo of Rohit and Pandya added 61 runs from just 27 balls, and that took the game further away from the hosts.
Pandya has been a revelation in this India side. His ability to hit the ball out of the park with ease, makes him one of the most dangerous batsmen in this format of the game.
The Mumbai Indians all-rounder did it against Sri Lanka in the last series and he came up with a similar kind of effort against Bangladesh in the opening match of the Asia Cup on Thursday as well. India captain MS Dhoni is impressed with this youngster and the talent that he possesses.
Dhoni feels that clearing the boundary from the very first ball is a special talent and thus he wants to give Pandya more match time so that he can improve his skills further.
"Batting fearlessly is Hardik's strength and that's why we want to give him more matches, he's a good fielder too and a useful third seamer," Dhoni was quoted as saying by PTI.
"He is an overall package we can promote him often."
"You don't need to tell him. He knows only one thing - to hit the ball and that's what he does. Everytime he goes out to bat, he's someone who wants to clear the boundary. Definitely he has the skill. It's a very difficult skill to have, to score boundaries right from the first delivery."