The script with Pakistan, as it always is, was the same - lose wickets consistently at the top of the order and ask Misbah-ul-Haq to pick that never-ending rabbit out of the hat to take his side home.
For 45 overs, Misbah looked like doing just that, playing another he-just-scores-and-scores-runs-under-pressure half-century, before the Pakistan skipper's wicket, courtesy Lasith Malinga (five for 52) - no, not off a yorker - brought out the smiles back on the Sri Lanka player's faces, smiles that had disappeared quickly as Misbah and Umar Akmal systematically carved apart the bowlers in what looked for all money like being a match-winning fifth wicket partnership.
At the end of a gripping 100 overs -- well, 98.5 overs -- in the opening match of the Asia Cup 2014 in Bangladesh, Pakistan fell short by 12 runs, finishing on 284 all out in 48.5 overs, after Sri Lanka, courtesy an outstanding century from Lahiru Thirimanne and a 67 from Kumar Sangakkara, had posted an OK-try-and-chase-that-down 296 for six in the first innings.
It was never a slam-bang wicket that the openers can start tonking from ball one on, and Ahmed Shehzad took a while to get going, putting the onus on Sharjeel Khan to find the boundaries.
Sharjeel (26, 23b, 4x4, 1x6) hit a couple of nice-looking fours, and a six, before, with the pressure on, as Shehzad struggled on one from 14 balls, the left-hander mistimed an attempted pull shot off Suranga Lakmal with Angelo Mathews completing a comfortable catch at mid-on.
Mohammed Hafeez, who scored hundreds for fun in the recent series against Sri Lanka in the UAE, started his innings as well as he could, picking a ball from the off-stump and smoking it to the midwicket boundary, and that sound beginning also seemed to wake Shehzad out of his slumber, with Pakistan finishing the first ten overs with a that's-not-too-bad 55 runs on the board.
However, chasing a total near 300, Pakistan were always going to be under pressure to keep the scoreboard ticking, while Sri Lanka were well aware of the fact that a couple of wickets, and they would be well on top.
Shehzad (28, 37b, 4x4), despite playing a couple of delightful shots after a tough beginning, fell victim to Chaturanga De Silva - his first wicket in ODIs - leaving a gap between bat and pad and letting the ball sneak through and hit the stumps.
Hafeez (18, 19b, 2x4) now needed to stay at the crease and anchor the innings, but an over later, Mathews thudded the ball onto his pads with the Pakistan all-rounder struck right in front of the stumps.
That meant the always-used Misbah-ul-Haq bailout was necessary for Pakistan to start the Asia Cup with a victory.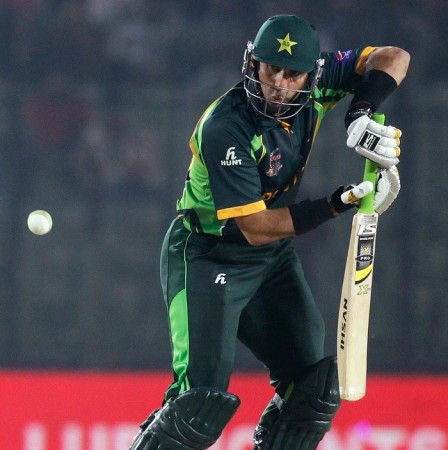 At the other end, Sohaib Maqsood lasted 27 deliveries, with the right-hander finding De Silva in the deep off a rank long-hop from Sachitra Senanayake - embarrassment was written on the faces of the bowler, for getting a wicket off such a poor delivery, and the batsman, for getting out to a ball that should have been hit out of the ground.
With Pakistan on a precarious 121 for four, Sri Lanka looked well on course for a comfortable victory, only for Misbah, as calm as ever, and Umar Akmal to ally for a now-that's-more-like-it partnership of 121 from 19 overs.
There were a couple of flutters here and there - Misbah extremely lucky not to be given out off a clear outside edge - but the two batsmen timed the chase wonderfully well, to take Pakistan to the brink.
Misbah (73, 84b, 4x4, 2x6) was severe on any bad delivery, while finding a six every now and then, while Akmal took his time to get settled before exploding with great effect.
In the blink of an eye, thanks to a flurry of boundaries from Akmal - and some of them worth the price of the ticket on its own -- Pakistan went from needing 115 from 15 overs to 57 off 48 deliveries, making the batting side the favourites.
However, the twists were not quite over, as Akmal (74, 72b, 7x4, 3x6), flung his bat at a wide delivery from Lakmal and only found an outside edge to Sangakkara.
That brought Shahid even-I-don't-know-what-I-am-going-to-do Afridi into the crease, with the seasoned all-rounder needing to just stick with Misbah. But then, Afridi is Afridi isn't he, and the flamboyant right-hander was walking back after just seven deliveries - caught in the covers off Malinga, before the "slinger" hammered that good-as-gold final nail in the coffin as Misbah slogged one straight down the throat of Senanayake at square-leg.
With Pakistan needing 43 runs from the final five overs, but just three wickets in hand and no set batsman, it was Sri Lanka's match to lose, and despite a valiant effort from the Pakistan tail-enders, Malinga's yorkers and death bowling nous proved to be just too much as the defending champions started their campaign on a losing note.
Earlier, Thirimanne said "no need for Mahela Jayawardene to open the innings" with the left-hander scoring a brilliant hundred to lead Sri Lanka to 296. Thirimanne stepped in outstandingly into Tillakaratne Dilshan's shoes at the top of the order, with the left-hander looking to forge a left-handed double-act with Kusal I'm-not-Sanath-Jayasuriya Perera.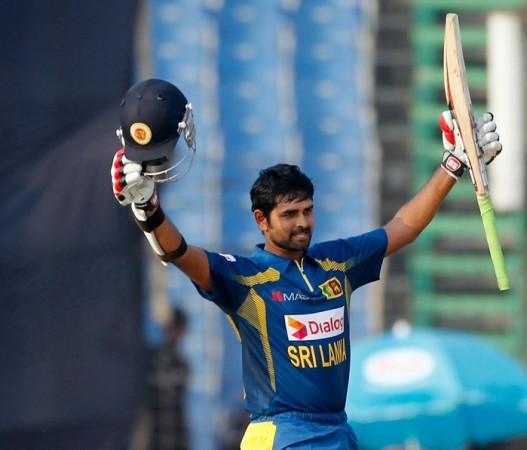 While Thirimanne looked comfortable right from the off, Perera struggled against the pace and movement of Umar Gul, who had the left-hander in a couple of tight spots, before finding the outside edge with a perfect ball that just left the left-hander.
However, with Perera back in the hut, it brought Kumar Sangakkara into the crease, and the Sri Lankan great built an innings-defining 161-run partnership with Thirimanne from just 24.1 overs.
Both players just kept picking off the boundaries with ease, playing straight on a slow pitch, with the scoreboard moving forward at quite a quick rate despite the duo not really taking any risks.
Gul got the crucial breakthrough, after a punishing 31 overs for Pakistan, with Sangakkara (67, 65b, 8x4) pulling one straight to Shehzad at midwicket. However, Thirimanne (102, 110b, 11x1, 1x6) continued his merry way, driving one to the offside handsomely to complete his second ODI hundred a couple of overs later.
With 35 overs gone, Sri Lanka, on a formidable 203 for two, were primed for a final assault, but Thirimanne's dismissal turned the innings a little towards the bowling side's favour, with Saeed Ajmal finding a way past the left-hander's defences.
Jayawardene, Thisara Perera and De Silva fell without really adding to the score, leaving Mathews to mount a much-needed final barrage of boundaries. The skipper duly obliged, making an unbeaten 55 from 50 deliveries (5x4, 1x6) to take Sri Lanka to a score near-300, even if at one time they looked set for a total well beyond 320.
Those 20 runs or so lost allowed Pakistan to make a game of it, with Sri Lanka only just about getting home.