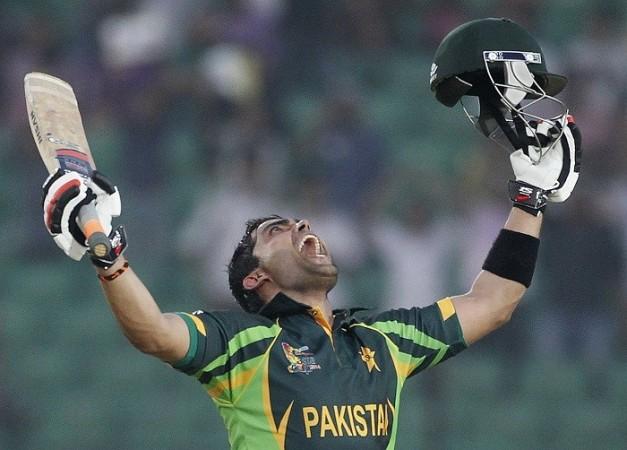 With Pakistan on 117 for six, there were the outlines being drawn for an epic upset by Afghanistan in the Asia Cup 2014. But then stepped Umar I-almost-won-Pakistan-the-game-against-Sri-Lanka-with-a-stunning-innings Akmal, with that artistic blade of his, to pull Pakistan out of seriously troubled waters and eventually make the difference between a thank-god-we-didn't-mess-up-there victory and a this-is-a-momentous-occasion loss.
Akmal caught fire in emphatic fashion in the final part of Pakistan's innings to take his side to 248 for eight, when at one point Pakistan looked like folding up for less than 200, with the bowlers then strangling the Afghanistan batsmen into submission to complete a comfortable 72-run victory - their first of Asia Cup 2014, with a bonus point thrown in as well, following the opening match loss to Sri Lanka in Fatullah.
Afghanistan, though, showed they might just belong in the big leagues, and given time and experience can become a serious contender for a Test spot in the near future.
At the beginning of the chase, Noor Ali Zadran and Mohammad Shahzad got off to an explosive start, with the latter whipping one to midwicket for a boundary off the first delivery of the innings from Umar Gul to set the tone for a nice period of play for the underdogs.
Noor Ali then ripped into Anwar Ali as the Afghans raced to 21 from the first three overs. However, once Mohammad Shahzad, after Noor Ali hit a couple more boundaries, got out to Gul, caught behind, Pakistan gained a stranglehold of the game, with the bowlers stifling the batsmen.
Asghar Stanikzai came in and got as stuck as you can possibly get in ODI cricket, making Jimmy Adams look like a batting tyro, with the No. 3 unable to find the boundaries or rotate the strike.
It was a crawl for Afghanistan from the sixth over or so, with Noor Ali, after a nice 63-ball 44 (7x4) falling prey to Saeed Ajmal.
Stanikzai (40, 91b, 3x4) and Nawroz Mangal (35, 57b, 3x4) put on a slow 74-run partnership from a little over 18 overs, not really looking like they believed they were capable of chasing down the target, and once the duo got out in quick succession, the writing was pretty much on the wall as Pakistan eased home, with Afghanistan finishing on if-only-we-had-hit-a-few-more-boundaries-and-made-a-real-go-of-it 176 all out in 47.2 overs.
The first innings witnessed a brilliant under-pressure knock from Akmal (102, 89b, 7x4, 3x6), along with some seriously comical and irresponsible batting from the rest of the Pakistan batsmen, who seemed like they wanted to outdo one another in gifting wickets to Afghanistan.
The opening duo of Sharjeel Khan and Ahmed Shehzad flattered to deceive yet again, unable to take advantage of the inexperienced Afghan bowlers.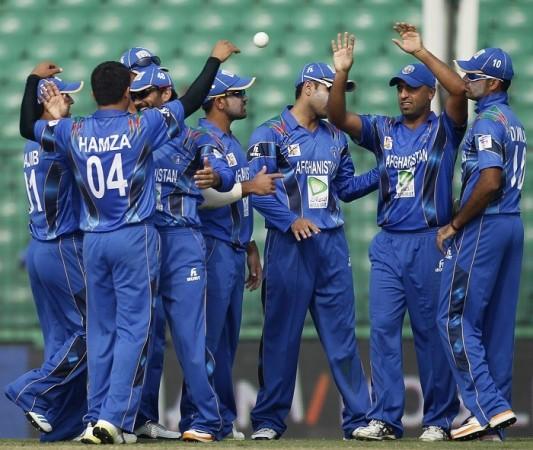 After surviving a gloved caught behind, Sharjeel (25, 37b, 2x4, 1x6) failed to take full advantage of the life, throwing away his wicket by slog-sweeping one straight to Noor Ali Zadran at midwicket off Hamza Hotak.
Mohamed Hafeez (10, 16b, 1x4), not rating the Afghanistan bowlers too much, apparently, played a cross-batted shot off Mirwais Ashraf that even a tail-ender would have cringed at, and with it spooning a catch to Mohammad Nabi.
Shehzad (50, 74b, 7x4) reached his half-century a few overs later, and then decided to try and smoke a shot to Lahore, but it was Kabul that was celebrating as Samiullah Shenwari disturbed the timber.
A ball later, Sohaib Maqsood, who has been compared to the incomparable Inzamam-ul-Haq, took a leaf out of the great man's running skills, selling how-on-earth-am-I-gonna-rescue-Pakistan-now Misbah-ul-Haq down the river with both batsmen eventually ending up at the same end and wicketkeeper Shahzad running all the way to the bowler's end to take down the bails - Misbah having to walk back to the pavilion without facing a single delivery.
Maqsood (13, 25b, 2x4) could have made-up for that catastrophic error with a good innings of his own, but the I-want-to-get-out-playing-awful-shots disease got to him as well, with the right-hander looking to clear mid-on off Shenwari, but only managing to find Stanikzai, who completed a simple catch.
Shahid Afridi, expectedly, looked to smash the ball out of the ground at every opportunity, and ended up being castled, before Akmal and Anwar Ali, in for Bilawal Bhatti, steadied the ship a little, taking Pakistan from a disastrous 117 for six to 177. Anwar Ali (21, 36b, 2x4) was a little unlucky to get out after adding 60 runs with Akmal, with Nawroz Mangal taking a stunning catch.
There were seven overs to go at that point, with Pakistan on 177 for seven, and Akmal, who was dropped on 28 by Shenwari, a drop which proved to be quite costly, made full use of the life by punishing the Afghanistan bowlers in the fag end of the innings, with some help from Gul (15, 12b, 1x4, 1x6).
The final five overs produced 59 runs, with the final three being particularly severe for the Afghan bowlers, as Akmal, who reached his second ODI century with a maximum, went six and four-crazy to take Pakistan to a respectable total.
The score proved to be enough, but Afghanistan more than showed they are capable of causing a flutter or three in this tournament and the likes of India, Sri Lanka and Bangladesh will need to bring their A game to ensure there is no upset.