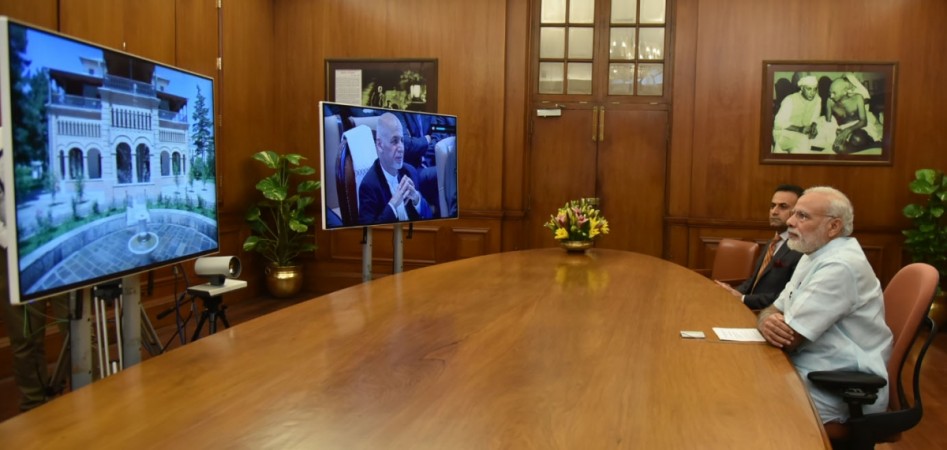 Prime Minister Narendra Modi inaugurated the restored Stor Palace, the office of the Afghan president, in Kabul with via video conferencing on Monday. The restoration was a joint effort by the Afghan and Indian government and the Aga Khan Trust.
The palace, situated on the western side of the Arg presidential palace, was inaugurated by PM Modi, Afghan President Ashraf Ghani and Salahuddin Rabbani, Minister of Foreign Affairs of Afghanistan.
"The sacrifices made by our Afghan brothers will not be forgotten," PM Modi said during the inauguration. "Today's inauguration of the Stor Palace brings back to life a valuable landmark of Afghanistan's cultural heritage," he added. "To those who cannot see beyond shadows of violence in Afghanistan, this palace is a reminder of glory of Afghan's rich tradition."
"Today's video inauguration of Stor Palace is an entirely different, yet in many ways more fundamental, dimension of our engagement," he said.
"I assure Afghan people that 1.25 billion people of India will always be on their side to build a prosperous Afghan," Modi added.
"Let me assure the people of Afghanistan that in your quest to build a prosperous Afghanistan and to bring peace, security and stability to your society, the 1.25 billion people of India will always be on your side," he said.
Also read: Watch PM Modi inaugurate the Stor Palace in Kabul, and read the full text of his speech here.
Speaking on projects undertaken with Afghanistan, PM Modi said that the transit corridor planned with Afghanistan and Iran "is another landmark in our partnership." The Salma Dam or the Afghan-India Friendship Dam will renew not just economy and agriculture of Afghan's Herat, but will build strong pillar of support for Afghan's overall growth. The hydroelectric and irrigation dam is located on the Hari River in Chishti Sharif District of Herat Province in western Afghanistan.
Indians and Afghans have always been close friends. Today we once again come together to celebrate another achievement of our friendship," he said.
The prime minister's remarks come after former Afghan president Hamid Karzai said that India should be "a lot bolder in meeting the military needs of Afghanistan." "India is ideally located to provide Afghanistan necessary defence equipment, military hardware and training to our army," he said in an interview with the Indian Express.