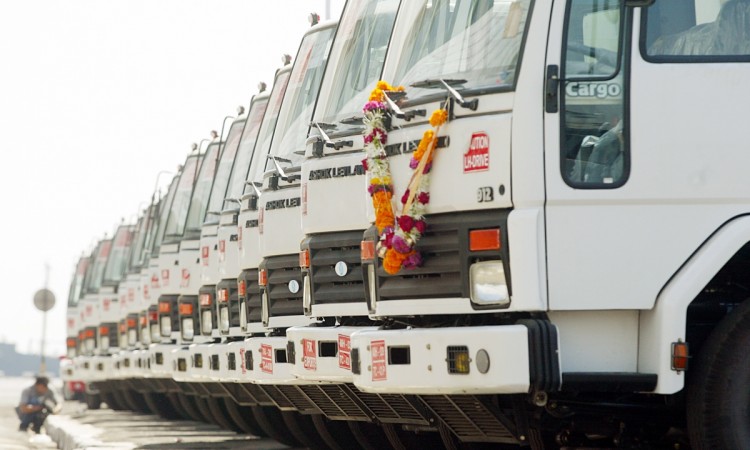 A double whammy of the exit of a senior manager and less than expected earnings have battered automaker Ashok Leyland's shares in the market, but most analysts consider the effect to last only during the short term.
Company chief executive officer Vinod K Dasari stepped down citing personal reasons after nearly 14 years at the helm of the automaker. The board has accepted the resignation and elevated chairman Dheeraj Hinduja as executive chairman.
The stock opened at a loss of 4.33 percent at 119.05 on the BSE. It hit an intra-day high of 113.90 and closed 10.46 percent or 12.45 points down. The stock has lost 6.49 percent during the last one year and 10.61 percent since the year began.
The stock is in fact trading below its 50-day and 200-day moving average of 116.21 and 130.03, which could further make traders wary.
Ashok Leyland's stand-alone net profit jumped 37.49 percent jump at Rs459.57 crore for the September quarter fuelled by higher revenue compared to Rs334.25 crore during the same period of the previous fiscal.
Company chief financial officer Gopal Mahadevan has said that though the input costs continue to increases, his company is trying to offset this through an efficient cost management.
The profit estimates were much higher than the actual figure and seem to have spooked brokerages, along with the resignation of Dasari.
Importantly, most brokerages are giving the counter a sell rating for now despite the massive fall of Wednesday. The target price is quoted at Rs100. The Citibank estimates earnings per share to decline by 6 percent over FY19-21 with the company's volume growth expected to decelerate, pressuring the margins.
Morgan and Stanley reckons the earnings before interest, tax, depreciation and amortisation (EBITDA) were 4 percent below the estimates. It expects near-term volatility. But in the medium term, the brokerage is overweight on the stock with a target price of Rs171.
Credit Suisse has upgraded the stock to neutral from underpriced with a target price of Rs118.
Dasari's resignation caught a lot of people off guard as the board had reappointed him as managing director and chief executive officer for a five-year term from April 1, 2016.
Ashok Leyland is a top producer of commercial vehicles and related components. It is involved in the making of medium and heavy commercial vehicles, light commercial vehicles, and passenger vehicles through its various subsidiaries. It is also involved in vehicle financing and engineering design services.
The company also designs, develops and manufactures defence vehicles for the armed forces. It operations are spread over India, Sri Lanka, Bangladesh, Mauritius, Africa, and the Middle East.
Analysts point out that Ashok Leyland has gained 6.9 percent over the past one year beating Nifty Auto Index that fell 18 percent.