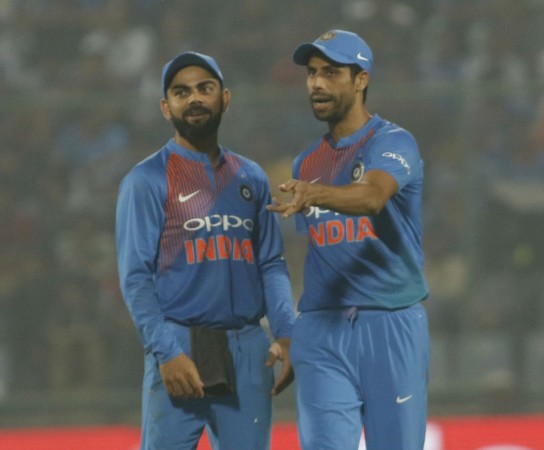 "Life comes full circle," they say. It was once again proved right during Ashish Nehra's farewell at the Feroz Shah Kotla in New Delhi on Wednesday, November 1.
The 38-year-old played his last competitive international match during the first T20I of the ongoing three-match series between India and New Zealand, which the hosts won by 53 runs. Despite solid performances from Shikhar Dhawan and Rohit Sharma, Nehra, fondly referred as "Nehraji", was the star of the evening at his home ground.
Nehra, who had completed 18 years in international cricket, received a memento from Virat Kohli for his contributions to the Indian cricket team, ahead of the T20I encounter on Wednesday.
It was a startling sight as the left-arm pacer, way back in 2003, was snapped presenting a trophy to the then Delhi schoolboy Kohli, who went on to become Nehra's last international captain. The skipper has certainly returned the favour now.
Kohli shares schoolboy memories
When asked about the viral photograph which has been doing rounds on social media for quite some time, captain Kohli turned nostalgic.
"That [the photograph] was back in 2003 after he had come back from the World Cup. I was 13 then and struggling for a place in the state team. Now when he is retired I am the captain of the side. It is a very special moment for me. Watching him say goodbye to the sport we all love so much," Kohli said during the post-match ceremony on Wednesday.
He added: "To keep coming back after the surgeries have been really tough for him. He deserved this kind of a farewell. He has a beautiful family and it is time for him to take care of them."
Nehra was never able to cement a place for himself in the Indian cricket team, barring a few brief spells when he was injury-free. However, even after 12 surgeries to his body, the Delhi fast bowler kept knocking the doors of the selectors.
The left-arm fast bowler, who never compromised on his pace, bid goodbye to Test cricket (after just 17 matches) way back in 2004. He represented the country in 120 ODIs and 27 T20Is, picking up a total of 235 international wickets.
Nehra flourished as a T20 expert during his Indian Premier League stints with Chennai Super Kings and Sunrises Hyderabad. Notably, the 22 wickets he picked up during his 2015 IPL campaign earned him an international comeback, which he made full use of in the twilight of his career.
"I'm not on social media but that picture has become popular now because where Virat Kohli is today. Otherwise, it was just a picture on the wall and nobody would have admired it. Now that picture belongs to Virat Kohli," Nehra had told Hindustan Times.