Veteran Indian fast bowler Ashish Nehra was in a reflective mood couple of days ahead of his last competitive match - the upcoming T20I series opener in New Delhi. The 38-year-old opened up on his 18-year cricket career while talking about his favourite cricketers, moments he rues and a lot more.
Nehra grabbed the attention of cricket fraternity when he made his debut way back in 1999 with raw pace. Despite going under the knife 12 times, he kept making remarkable comebacks at the highest level. Unmindful of "having a body somewhere in the middle of injuries," the lanky left-armer never let his pace drop.
The Delhi bowler, throughout his career, seems to have acknowledged his limitations (of having "a body somewhere in the middle of injuries" and made wise career moves. The decision to focus only on shortest format of the game is a testament to his acumen.
Favourite cricketers
"It takes one to know one," they say. As it turns out, Nehra has revealed two cricketers, who are his favourites because of their "sharp cricketing brains".
"For me, Ajay Jadeja and Mahendra Singh Dhoni are the two shrewdest cricketing brains I have ever interacted with," Nehra told reporters at his academy in Noida on Monday, October 30.
Notably, Nehra had flourished as a T20 bowler under the leadership of Dhoni during his stint at Chennai Super Kings (CSK).
The left-armer ended up among the top-five wicket-takers in the 2015 edition of Indian Premier League (IPL). His performances also earned him a national call-up, which he made full use of and became a regular in the Indian T20I side.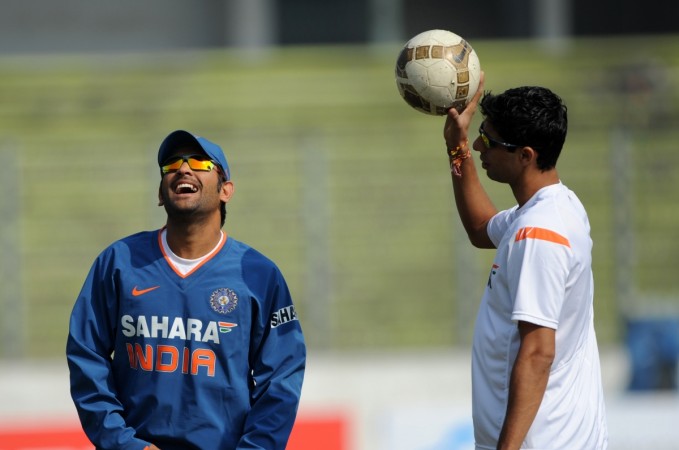 Memories of World Cup 2003 final
Nehra had won the World Cup with the Indian cricket team in 2011, but he missed an opportunity to play the final of the quadrennial cricket spectacle in front of his home crowd after suffering an injury in the semi-final against Pakistan.
However, Nehra was part of Sourav Ganguly's side that was hammered by Australia in the final of World Cup 2003 in South Africa. The veteran cricketer says the heartbreaking defeat is the only thing he wishes to change in an otherwise fulfilling international career.
"It's been a great journey. May be one regret. If I could change anything in these 20 years, that afternoon in Johannesburg during the 2003 World Cup final. But nothing else as it's all about destiny," Nehra said.
"Trust me, I have had eventful 20 years. I am not a very emotional person. The next 20 years is what I am looking forward to. Hopefully, it will be as eventful as it has been since I started playing for Delhi in 1997," he added.