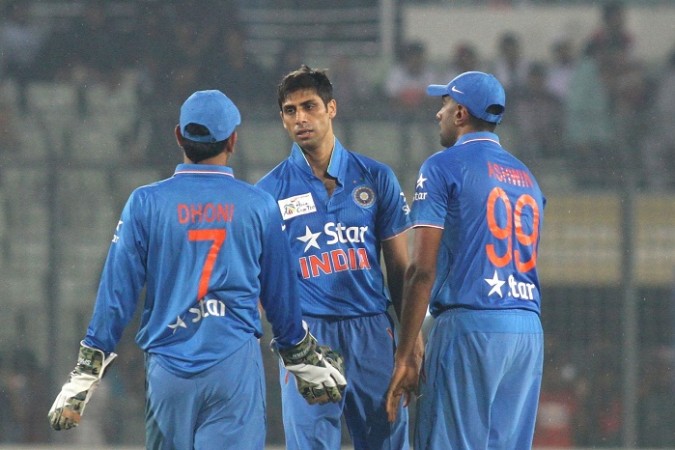 Experienced India campaigner Ashish Nehra has played under a number of captains for the national side, including Mohammad Azharuddin, Sourv Ganguly and MS Dhoni. The left-arm seamer praised the current India ODI and T20 captain Dhoni, who he believes has been the best captain in pressure situations.
One has seen Dhoni unperturbed on the field even when his team is under huge pressure, which has led him to earn the nickname "Captain Cool."
"Right from my debut under Mohammed Azharuddin (in 1999), I have played under so many captains but when it comes to remaining cool and delivering under pressure, Mahendra Singh Dhoni is the best. I have not seen anyone who can remain so cool under pressure, [sic]" Press Trust of India quoted Nehra as saying.
Nehra was one of India's bowling spearhead even under Ganguly. During the time, Ganguly used to bank on Nehra to get him early wickets, and dismiss the top order. He used to bowl a good pace, his weapon being swinging deliveries, which helped him pick a number of wickets.
Ganguly was a different captain compared to Dhoni. Ganguly used to react if players dropped catches or misfielded, but Dhoni rarely draws an agitated face on the field. Ganguly was much more aggressive and demanded things to be done.
It would not be wrong to say Ganguly built an aggressive team that played fearless cricket. Players like Virender Sehwag, Zaheer Khan and Yuvraj Singh excelled under Ganguly, who is regarded as one of the best players to have captained India.
"When we played under Sourav, guys like myself, Yuvraj, Virender Sehwag and Zaheer Khan were all very young. For us Sourav's wish was our command as he had much more experience than all of us. If Dada said that something needs to be executed, we knew it had to be done, [sic]" Nehra said.
Nehra has played 17 Test matches only for India despite making his debut in 1999. He was injury-prone, which led to so few matches for him in white clothing for India. Nehra has also played 120 ODIs and 23 T20 matches for the country. The left-arm pacer regrets not making a comeback when he was handed a chance by Dhoni and then coach Gary Kirsten in 2009.
"In 2009, Dhoni and the then coach Gary Kirsten had asked me if I would like to make a Test comeback. I was around 30-31 then and should have responded positively but I was not very sure. When I look back, only two years back, at the age of 35, I had played six four-day matches in six weeks. So when I look back, I feel I should have played more than 17 Test matches, [sic]" Nehra said.