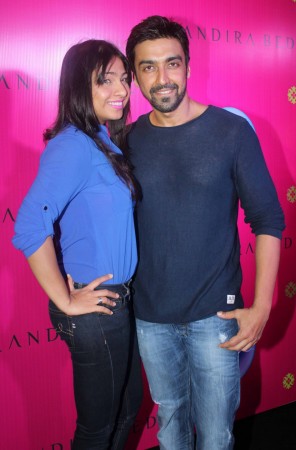 Bollywood actor Ashish Chowdhry's wife Samita Bangargi delivered twins on Monday, 3 November, and the "Dhamaal" actor is thrilled to welcome the newborns.
Ashish took to his Twitter page on Tuesday night to reveal the news. In a series of posts, the actor shared his excitement over the arrival of his two new daughters with his followers and also thanked his fans for their good wishes.
"#Twamilyyyyy!!! I love u all!!!! I know u all know..But u all know that I know it's ur love,n all ur good wishes..I'm the luckiest guy ever," he wrote. "Yeah it's TWO lil' angels..It's TWO princesses..It's TWO times infinite happiness.. It's TWO girls!! TWO GIRLS!!! I can't believe my luck!"
It was Ashish's friend and co-actor Riteish Deshmukh, who broke the news on his Twitter page and wished him. "Absolutely thrilled 2 know tht my dear friends @AshishChowdhry & @SamitaBangargi r now proud parents of 2 gorgeous baby girls #DoubleDhamaal," he tweeted.
In reply to Riteish Deshmukh, Ashish Chowdhry wrote, "Wanted to come on earlier,but so happy my lil' girls chachu @Riteishd announced their arrival.Chacha Chowdhry in the waiting luvs Chachu RD!"
The "Ek Mutthi Aasman" (EMA) actor married actress Samita in 2006 and has two sons and a daughter with her. The actor, who is basking on the success of EMA posted, "Been a roller coaster since quitting #EMA..Much needed break..Needed to shift out 4 d increment in family..Now you all know what I was upto."
"You know,I always wanted 3 daughters.It was my dream.But today I know God gave us lil' August to be the protector of his lil' baby sisters. U guys,my #Twamily,have been a life changer for me.All has been beautiful since I've had u.I see all ur blessings work for me.I love u all."
Talking about the birth of the twins, Ashish wrote, "Monday mornin 3rd Nov,I tweeted that I was having a burst of positivity.Monday evenin 4.47pm & 4.48pm they arrived respectively. #gutinstinct. Father of 5 now!! Monica's two,Auggie,n now these two lil' monkeys! I know Mona's watchin,blessin me,takin care of all of us.Wow.Ive grown.."
He concluded, "My gorgeous @geneliad. Amongst d first I called. Genie has been as excited as I have. Ur fab,Geeyu!! I'm lucky I have u. Luv u. #funawaits Chalo,I'll rest a bit now.Runnin in n outa hospital.Tomorrow we do a QnA.I owe myself some time with my #Twamily.N thank u all immensely."