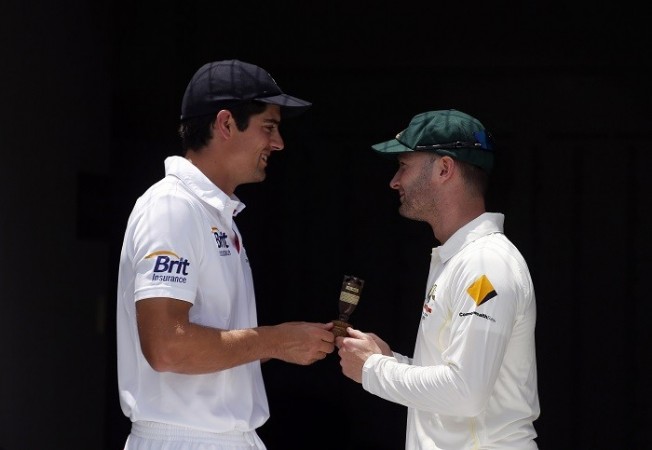 England haven't had too much time to savour their Ashes victory at home - just about three months. Starting Thursday, one of the greatest contests in Test cricket takes centre-stage yet again, as Australia, their dominant years soon being forgotten, look to grab back the urn from England.
The last time England travelled down under, they came away with an impressive 3-1 series victory. If that win was thought to be just a flash in the pan, the 3-0 Ashes win in England only emphasised Alastair Cook and co's superiority in the Test format at the moment.
On paper, while Australia look a little better, England should win the five-match series, starting with the first Test in Brisbane on Thursday, comfortably enough.
While it might not be a 3-0 result, or even a 3-1, England undoubtedly have the stronger, more experienced unit, familiar with winning Test matches.
Australia, on the other hand, have floundered in the five-day format, and haven't won a single Test since January. They were blanked by India in India, before England handed them a 3-0 loss.
Michael Clarke and his men will be desperate to set the balance of Ashes Test match cricket, for so long tilted in the Aussies' favour, right. Victory over England in Australia, might just be the tonic needed for another Aussie resurgence.
"I'm not going to sit here and promise the world, tell you everything is going to be different," Clarke said. "Our job is to perform at our best, and hope the result will take care of itself. I think the belief is there, and I hope we'll show that over the next five Test matches."
A good start to the series is essential, and who knows, had Australia grabbed their opportunities in a tense first Test in England, the entire series might have turned out different.
The hosts cannot afford to let go of their advantages now - winning the first Test will be paramount, if they are to stop the England juggernaut, and at the Gabba, history is very much with them. Australia are unbeaten in Brisbane for 15 years - they haven't lost a Test match at the Gabba since 1988.
"We've spoken about their record here," England skipper Cook said. "We spoke about that at Lord's in 2009 when we were playing Australia who had an excellent record there, and made a real conscious effort to change that. So we know this side can do that -- when a specific challenge is in front of us, we've delivered."
Team News: Australia have the option of going with an all-rounder in James Faulkner, with Shane Watson unlikely to bowl too much owing to a hamstring injury, or giving George Bailey his Test debut, the more likely option.
Clarke also might decide to go with four fast bowlers, which included Faulkner, leaving the lone spinner Nathan Lyon out of the side, with the Aussie skipper, himself, and Steven Smith bowling some spin.
When asked about his team selections, Clarke did not give anything away. The likely scenario is Faulkner sitting out, with Bailey making his debut and Lyon acting as the lone spinner.
England are fretting over the fitness of Matt Prior, who is suffering from a calf injury, and while Cook looked reasonably confident the wicketkeeper and vice-captain would be declared fit, the England skipper insisted the team would not take any undue chances.
"He's got the last part of his fitness to go," Cook said. "With these leg injuries it's normally how they pull up the next day. We'll know pretty soon. He's a very valuable member of the side, a hugely experienced cricketer and a huge help for me as vice-captain.
"But you have to be sensible. You could have him for this one game but if he then goes back five major steps and gets a bigger tear in it and misses three or four then we'll look stupid. If he plays four out of five that's better for us. But he's been given every opportunity because we know how valuable he is to us."
If Prior fails to make it, Jonny Bairstow will step in as the wicketkeeper, with Joe Root set to slot in at No. 6 - the role that Bairstow held for much of the Ashes series in England -- as Michael Carberry looks set to partner Cook at the top of the order.
Where to Watch Live
The Test match is set for a 5.30 am IST start with live coverage on Star Sports 1 and Star Sports HD1. You can also live stream the match online by visiting the official website, Starsports.com. To catch the match by streaming live in the U.S., click HERE. For viewers who want to watch the match live online in the U.K., click HERE.
Expected lineups: Australia: Chris Rogers, David Warner, Shane Watson, Michael Clarke (capt), Steven Smith, George Bailey, Brad Haddin (wk), Mitchell Johnson, Peter Siddle, Ryan Harris, Nathan Lyon.
England: Alastair Cook (capt), Michael Carberry, Jonathan Trott, Kevin Pietersen, Ian Bell, Joe Root, Matt Prior (wk), Stuart Broad, Graeme Swann, James Anderson, Chris Tremlett.