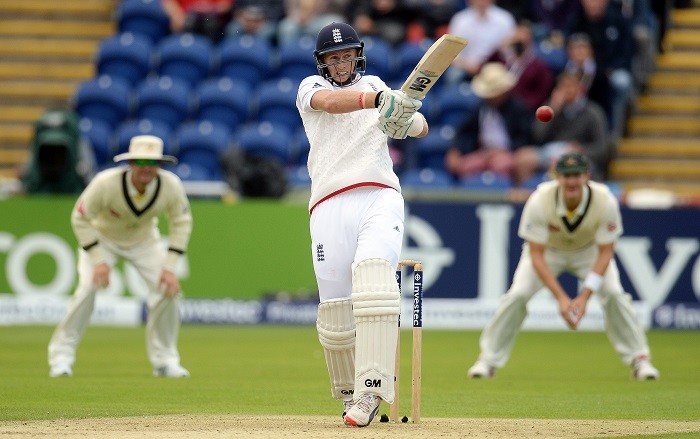 When the likes of AB De Villiers, Virat Kohli, Steven Smith and even Kane Williamson are mentioned, one name that doesn't get mentioned in the same bracket, as yet, is Joe Root. Well, maybe it is time now to mark the England batsman amongst the current elite.
In another innings of sheer class, the diminutive right-hander showed just why he is easily England's best batsman at the moment, batting away the Australia bowlers with consummate ease on Day 1 of the Ashes Test in Cardiff.
Root was always going to be the key batsman for England in this Ashes series, and that importance only grew when the home team slumped to 43/3 on Day 1 morning, leaving the capacity crowd at Sophia Gardens fearing the worst.
However, in came Root to soothe those nerves, banging in boundary after boundary right from the off, and counter-attacking – quite gracefully too -- in such a special manner that the pressure went right back on the Aussie bowlers. Yes, the pitch was flat, but with the ball swinging – it swung all day for the bowlers -- and considering the position that England were in, it still needed a special innings to pull the home team out of troubled waters.
Great players are defined by that particular character – the ability to take the game away without even looking like doing it. While Root, who was dropped on 0 by Brad Haddin, did not take the match away from Australia, the right-hander and Gary Ballance put on such a crucial 153-run partnership – of which Root scored 97 runs – that it was worth its weight in gold.
"That position that we were in together was a tough one," Root was quoted as saying by ECB's official website.
"It just shows the strength of character he's got and how important he is to our dressing room because those are the sort of things that could potentially win you matches."
Character and strength is certainly something you can use to define Root, and the longer he plays the better he seems to look. His 134 (166b, 17x4) was a knock of substance and the fact that it came when England desperately needed it takes it up a few notches.
England finished Day 1 on 343/7 in 88 overs, with Root sent back to the pavilion in the final session by Mitchell Starc, who got him driving outside off to find the outside edge, which was nicely pouched low to his left by Shane Watson at first slip.
However, had it not been for Root, that 343/7 could have easily been 143/7.
"The way [Root] batted was pretty special," said Josh Hazlewood, the pick of the Australia bowlers on Day One. "We'll have to come back with a plan, or a couple of plans hopefully, to be able to nullify him over the rest of the series.
"He really waited for the bad ball throughout the whole innings. He's a most-improved player from last time we saw him and played against him. We'll have to work a way to get him out."