Asaram Bapu, the self-styled godman, who was arrested for raping a 16-year-old girl in Manai village in Jodhpur, Rajasthan August 2013, has been convicted of his crime. The trial court in Jodhpur pronounced the judgment while the quantum of the sentence is still awaited.
The Jodhpur Schedule Caste and Schedule Tribe Court convicted the 77-year-old "godman" Wednesday, April 25, along with two others for the crime. Asaram had been in the Jodhpur central jail since 2013 after he was arrested on charges of raping the minor girl.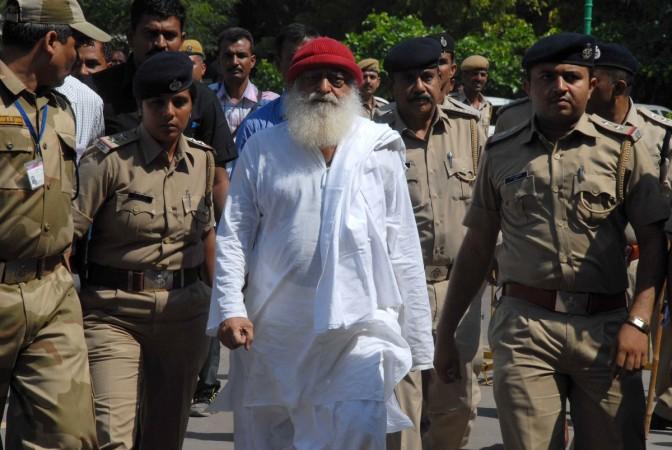 The timeline of the rape case
A 16-year-old girl from Uttar Pradesh accused Asaram of raping her in Manai village in Jodhpur August 2013.
Under the pretext of exorcising her from evil spirits, the godman raped the teenager.
On August 20, 2013, a case is registered against him at the Kamla Nagar police station in Delhi.
Asaram denies the rape allegations made against him.
He is, however, charged with the crime and the victim undergoes medical tests.
The medical examination confirmed sexual assault.
The "godman" is arrested from one of his ashrams by the Jodhpur police September 1, 2013.
Asaram is booked under Protection of Children from Sexual Offences Act (POCSO) and Juvenile Justice Act.
The chargesheet filed against him states that the victim studied at one of his ashram located in Chhindwara, Madhya Pradesh.
Her parents are disciples of Asaram following which they took their daughter to see the "godman."
In December 2013, Asaram's son Narayan Sai was also arrested after two girls alleged the father-son duo raped them in an ashram in the mid-2000s.
Several witnesses give their statement on the rape case between March 2014 and August 2016.
The victim gives her statement to the police April 2014.
Asaram records his statement two years later October 2016.
In the years that Asaram spent inside the jail, nearly nine witnesses were attacked. Three of them even lost their lives.
Asaram's bail plea was rejected by the sessions court at least six times.
His bail plea was also rejected thrice by the high court as well as the Supreme Court.
Many high profile lawyers like Ram Jethmalani, Salman Khurshid, KK Menon and Subramanian Swamy, fought for Asaram's bail plea but failed.
The final argument in the case is completed March 2018.
The Jodhpur court decides on the date of verdict April 25, 2018.
Asaram is convicted of his crimes by the Jodhpur trial court.