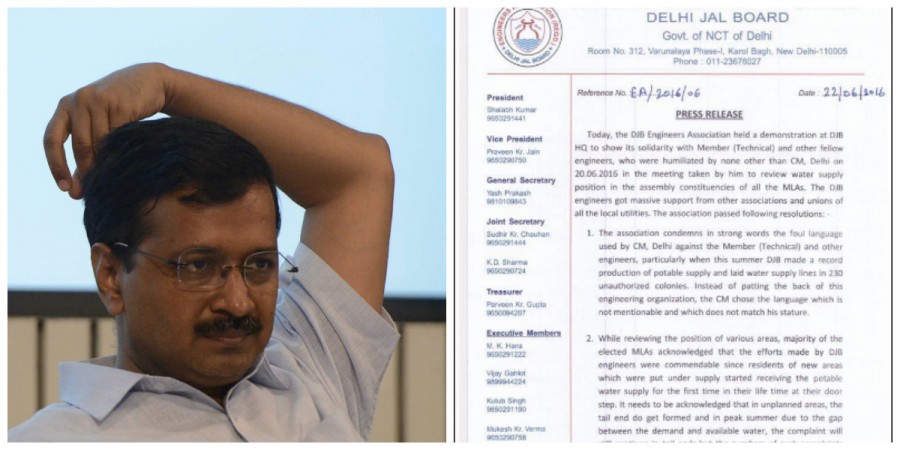 Delhi Chief Minister Arvind Kejriwal is now facing the heat from the city's water utility — the Delhi Jal Board (DJB) — whose employees have demanded an apology from him for using "foul language" and revocation of suspension orders he issued against two DJB engineers after a review meeting on Wednesday.
The outcome of the meeting also ended in the resignation of R.S. Tyagi, DJB Member (Water Supply) on the same day.
"The association condemns in strong words the foul language used by CM, Delhi against the Member (Technical) and other engineers...the CM chose the language which is not mentionable and which does not match his stature," the Engineers Association of DJB said in a press release.
To express their solidarity with Tyagi and the two suspended officials — Chief Engineer Y.K. Sharma and Executive Engineer B.C. Patel — the Association held a protest outside the Board's office, reported the Hindu.
Giving a deadline of 48 hours (starting from Wednesday) to revoke the suspension orders, the association said failure to do so by the Delhi government would result in protests outside the Delhi Secretariat.
Incidentally, it happened a day after the Anti Corruption Bureau filed a report against Kejriwal and former Delhi CM Sheila Dixit in connection with the Rs 400 crore water tanker scam of Delhi Jal Board.
Dixit was booked for her alleged involvement in the scam, while Kejriwal was accused of "suppressing" the matter for about a year.
Kejriwal said at a press conference on Tuesday that it was done at the behest of Prime Minister Narendra Modi and that he can't be cowed down by such "scare" tactics.