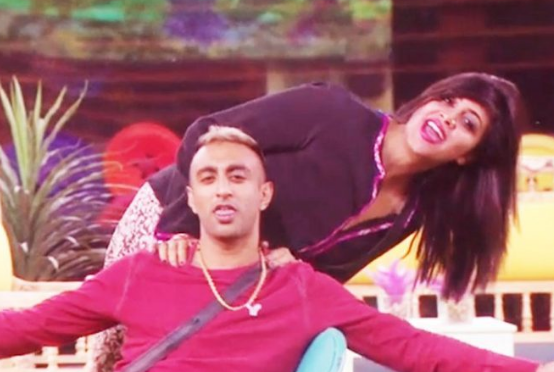 Bigg Boss 11 contestants have been making many scandalous comments inside the house. Now Arshi Khan and Akash Dadlani have been heard saying they wanted to bring and smoke "charas" — a hashish form of cannabis — in the show.
ALSO READ: Legendary actor Shashi Kapoor passes away at 79
In an unaired video from Bigg Boss 11 that is available on Voot, Arshi and Akash are seen talking about how they wanted to bring the drug — which is on the list of controlled substances in India under the Narcotic Drugs and Psychotropic Substances (NDPS) Act — in the show.
A number of contestants including Akash, Luv Tyagi, Vikas Gupta, Priyank Sharma, Hiten Tejwani, Hina Khan and Arshi are seen having a candid conversation. The chat was primarily between the five male contestants, and they were talking about each other's smoking and drinking habits.
At one point of time, Arshi suddenly asked them: "Charas nehi lekar aye tum log kya?" Akash is heard responding he wanted to but was too scared. Arshi said she too was thinking of bringing some "charas" to the Bigg Boss 11 house.
Akash and Arshi continued the chat adding that they both get very hyper after smoking "charas". The conversation then turned towards Akash revealing how he enjoys his stay at home with girls when his family members are not there.
But the interesting part is how these two contestants openly talk about consuming drugs, as they apparently think that this conversation would not be made available to the viewers. You can watch the video by clicking HERE.
It may be noted that it is illegal for a person to produce, manufacture, cultivate, possess, sell, purchase, transport, store, or even consume any narcotic drug or psychotropic substance mentioned in the list of drugs controlled under the NDPS Act. Any person found guilty of violating any part of this law could face jail time or a hefty fine or both.
The quantum of punishment depends on the quantity of the drug involved in the case. If the amount of drug involved is lesser than 1 kg, which is considered small quantity, then the convict can face jail term upto six months, or with fine upto Rs 10,000, or both.
When the amount of drug involved is greater than small quantity but lesser than commercial quantity then the jail term may be extended to 10 years and with fine upto Rs 1 lakh. When the case involves commercial quantity of drug, the convict can face imprisonment not less than 10 years, which can extend to 20 years. Also, the person will be liable to fine not less than Rs 1 lakh that can extend to Rs 2 lakh.
So, with Arshi and Akash having confessed to consuming "charas", will the two face any legal problem in the coming days?