Arsene Wenger, when he takes his place in the board meeting to be held on Tuesday, will point to his team's brilliant – and brilliant is perhaps an understatement – performance in the FA Cup 2017 final against Chelsea as proof that he still has the chops to take Arsenal to the heights they need to be at.
Despite repeated admissions that Arsenal Football Club now have the firepower to make a sustained challenge for the Premier League title, Wenger has failed to deliver anything remotely resembling it, leading to questions over his future.
And to make matters worse, Arsenal have tumbled out of the last 16 of the Champions League with embarrassing results.
As much as Wenger might believe he is the right man for the job – and let's be clear, that board meeting is a mere formality, Wenger will remain as the Arsenal manager – questions that have been asked over his future do hold merit.
The manner in which the "protests" and "criticisms" have been made can perhaps be questioned, but not the validity of it.
At the end of the day, apart from the FA Cup, Wenger has failed to get this Arsenal team playing like they should.
There is no reason that the Gunners cannot play the way they did against Chelsea in the cup final in every game.
The Blues themselves showed that's possible when they won a record 30 matches out of 38 en route to winning the English Premier League title.
For a man who espouses consistency and preaches on how "consistent" his Arsenal sides have been over the last 21 years, Wenger's teams fail in that regard over the course of a 38-game season.
Why can't Arsenal play like this all the time?
They either start bright and then fade alarmingly, only to make a late run or they start slowly, then begin to find some form, before extinguishing quicker than a candle in a gale-force wind the moment "pressure" comes on.
As much as Wenger might want to bring out his excuses in that regard, there is none.
Arsenal, one of the biggest clubs in the world, have seriously underachieved over the past several years under Arsene Wenger.
Ever since the money issues ceased to be an issue and Arsenal could afford to not only keep their best players but sign world-class ones like Mesut Ozil, Alexis Sanchez and Petr Cech, Wenger has had nowhere to hide.
If you spend the money, have your own squad of players and have full control of all footballing activities – and that full control could be on the wane for the manager – Wenger has an obligation to deliver, and not just in the FA Cup.
Yes, the three title wins in four years is a remarkable feat and to become the most decorated manager in FA Cup history even more, but to constantly underwhelm in the Premier League and put on one embarrassing performance after another in the Champions League just isn't good enough.
In those competitions, Wenger turns into a stubborn coach that exasperates one and all.
When change in formation or personnel are the obvious route, Wenger sticks to the same thing and expects the result to just magically change. Had he been more proactive in January and understood the problems that Arsenal have, this could have been a different season.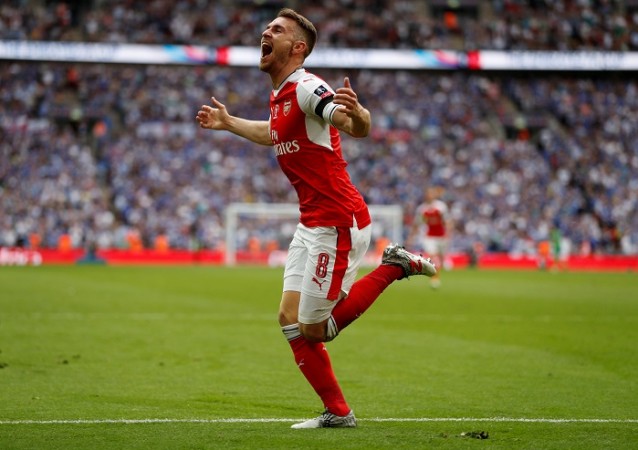 The moment Santi Cazorla was ruled out for the rest of the season, Wenger's tactics should have changed. The immediate question should have been – how do I get my midfielders playing to the best of their ability.
Aaron Ramsey is Arsenal's best midfielder when on-song, and while Francis Coquelin and Cazorla are a pair made in heaven, the French midfielder and the Welshman isn't.
Ramsey needs someone who can make the long passes and just move the ball around to partner him, but Wenger, rightly, didn't trust Granit Xhaka enough to play the deep, screening role, purely because of his penchant to go for a tackle and get himself sent off.
So, what was the obvious solution to that?
Why, bring in an extra central defender, of course, so that Xhaka has more cover and Ramsey can keep making his runs that trouble so many defences.
So, it should be no surprise that Xhaka and Ramsey have had their best games since the change in formation – made by Wenger only because he felt the need to show the fans and the people above that he can be flexible.
If Wenger does stay next season – ok, when Wenger's contract extension is confirmed – the manager needs to show he can be more flexible, change tactics and formation according to the opposition and turn Arsenal from a seriously predictable "we know how they will play and line-up, no matter what the game" side to a "woah, we didn't see that plan coming" one.
Do that, and Wenger might be able to make next season not feel like Groundhog Day.
Arsenal's dressing room celebrations after FA Cup win