Outgoing Arsenal manager Arsene Wenger would have wanted to finish his 22-year-long stint at the north London club with European final farewell but all his hopes were dashed when they lost the Europa League semi-final to Atletico Madrid at Wanda Metropolitano on Friday, May 4.
Wenger conceded he was frustrated and "very, very, very sad" over Arsenal's exit from the continental competition. With Friday's agonizing loss went the Frenchman's chances of winning a maiden European title in his last season with the Gunners.
Arsenal, who are unlikely to finish inside the top-four of the league season, also squandered their final opportunity to qualify for the Champions League. Notably, the north London club will be missing top-tier continental action for the second straight season.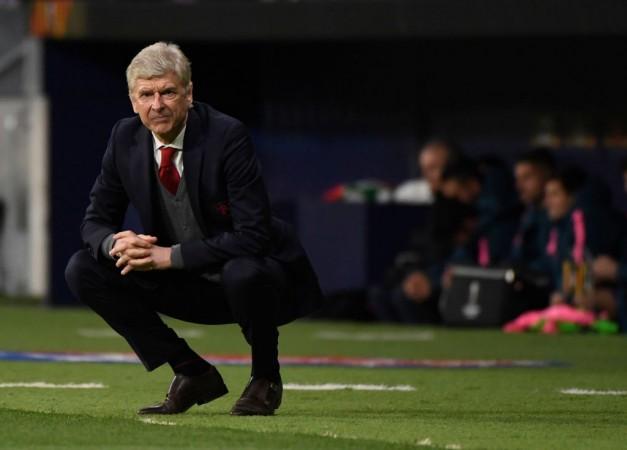 Diego Costa, who had haunted Arsenal quite a few times during his time at Chelsea, caused the agony to Arsenal as he scored the only goal of the semi-final second leg during the first-half stoppage time.
Diego Simeone's men made sure they clung on the slender lead by registering their 12th consecutive clean sheet at home and won the semi-final tie 2-1 on aggregate.
"I am sad and very disappointed overall, very frustrated as well," Wenger told the media, as quoted by Reuters.
He added: "When you go out of the competition it is very difficult to take. It's very sad, very, very, very sad. I'm very sad tonight. Unfortunately, you have to go through that - the game can be very cruel. Sometimes it's very nice, but the suffering is very strong tonight."
Arsenal lost Laurent Koscielny as he was stretchered off the field due to suspected torn Achilles tendon in the first half. The captain's loss made it difficult for the visitors to contain the firepower of Costa and Antoine Griezmann, who had netted the equalizer in the first leg last month.
Wenger rues not being decisive in first-leg
Atletico's sturdy defense won Wenger's praise but the French tactician rued the chances Arsenal missed against a 10-man opposition in the first leg.
"The tie should have been over in the first game. We missed a lot of opportunities and missed something in the final ball. They [Atletico] are a team that defends well. I believe we were a bit unlucky a few times," Wenger said.
"They are a clever side that defends very well. They were in amazing positions and they have great defenders," he added.
"It was a very intense game between two teams that gave everything. Congratulations to them and good luck to them in the final. I would say the winner of tonight's game is the clear favorite in the competition."
Wenger's men, who are placed sixth on the league table with 57 points (14 adrift of fourth-placed Tottenham Hotspur), will face Burnley at home Sunday, May 6.