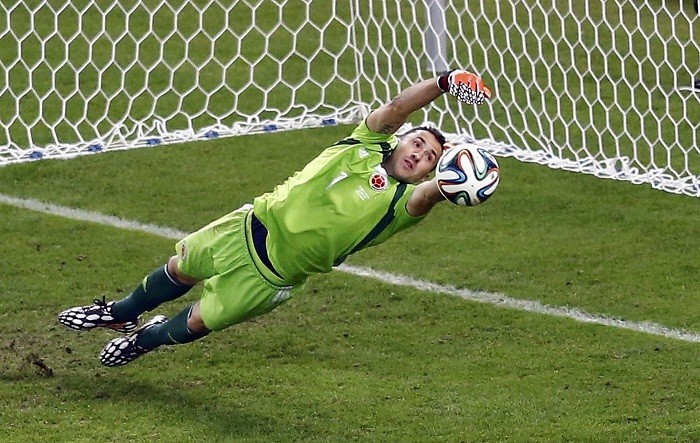 Arsene Wenger as good as confirmed David Ospina will be an Arsenal player after revealing the Colombian international will deputise for Wojciech Szczesny come the start of the season – at least for the first few games.
The Gunners were thought to have agreed a deal with Nice worth £3.2 million, with Ospina also agreeing on personal terms. The only thing that remains is an official announcement, with, you know, that bunch of pictures with the spanking new Puma Arsenal shirt.
And Wenger, who never talks about potential moves, until his quotes pop up on the official website with the story of the signing, changed that track a little bit by pretty much confirming the move.
Asked about whether Szczesny would be Arsenal's number choice following the imminent arrival of Ospina, Wenger answered in the affirmative but also said the Polish goalkeeper will have a fight on his hands.
"You know at the start Szczesny will be the No. 1, then again we'll be down to performances and, if Ospina shows that he is better, he will play," Wenger said.
Competition for Szczesny certainly bodes well for Arsenal, with the Poland international at his most dangerous, in terms of mistakes, when he feels a little too confident and secure about his job.
With Ospina, who was so impressive for Colombia at the World Cup, now giving Szczesny a run for his money, Arsenal seem to be pretty set in the goalkeeping department, which is something that could not be said ever since Jens Lehmann left the club the first time.
Meanwhile, Wenger also revealed he expects this Arsenal team to compete with the best, and after the club's impressive transfer window so far, where they have already brought in Alexis Sanchez and Mathieu Debuchy, along with Ospina and the imminent signing of Calum Chambers, the manager expects a sustained challenge for the English Premier League title.
"That's what our target is, but still I think we have been very consistent," he said at a press conference in New York when asked about if Arsenal were looking to replicate the success they enjoyed under Wenger in the late 1990s and early 2000s.
"It was a very different period because we built a new stadium and had to pay it back. We survived at the top level but we want more. We are now on an even ground with the other clubs than we were five or six years ago.
"We have people that won the World Cup and hopefully with that we boost our confidence. We bought some good players like Alexis Sanchez who will give us different options. And overall last season, we were for a long time top of the league and we lost -- you know we had many injuries and hopefully this year we will be injury-free and start very well."
Arsenal are also in the transfer market for a midfielder, with the likes of Sami Khedira, Morgan Schneiderlin, William Carvalho and Lars Bender all linked, and Wenger will most likely sign a central defender as well, especially if Thomas Vermaelen leaves.