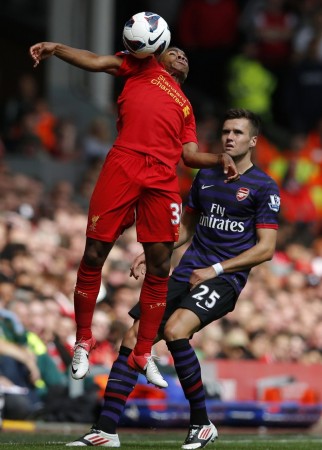 Arsenal manager Arsene Wenger is quite liking whipping out that that cheque book in this summer transfer window and all of the wonderful things that come with it.
In another we're-going-to-pay-what-you-want signing, Wenger looks set to rope in another young gun from Southampton by signing defender Calum Chambers.
Wenger was in the market for a right-back/backup defender, despite signing Mathieu Debuchy from Newcastle as a replacement for Bacary Sagna, and after scouring Europe and a few other places for that ideal candidate, the Arsenal manager seems to have gone back to England and one of his favoured clubs to sign young players from.
Widespread reports in England suggest Arsenal have as good as completed the signing of Chambers, after agreeing a fee, with the teenager completing a medical on Friday. The actual fee ranges depending on which report you read, with Arsenal set to pay anywhere between £10-16 million for the 19-year-old's services.
Chambers broke into the Southampton side last season, putting in some really impressive performances at full-back. However, the young Englishman, many believe, also has the capability to develop into a centre-back, something that, no doubt, will delight Wenger.
The Arsenal manager does like players who are versatile, and after losing Sagna, who was basically his fourth-choice centre-back last season, Wenger will be happy to bring in a player who can fill several roles.
Chambers will now tread the path already chalked out by Theo Walcott and Alex Oxlade-Chamberlain, two players that Wenger has previously bought from Southampton, who just seem to brilliantly churn out one quality youngster after another.
The signing of Chambers means Carl Jenkinson's future at Arsenal looks precarious, at best, with the defender now likely to leave the Emirates this summer, either on loan or on a permanent basis.
Jenkinson, who has been linked with a move to West Ham, has shown capabilities of filling the right-back role in the past, especially when given an extended run; however it looks like, Wenger just wasn't convinced enough.
Arsenal also have Hector Bellerin making waves in the U-21 side, making Jenkinson's role at the club even more uncertain.
Wenger probably envisages Chambers and Bellerin being the primary right-backs for many years to come, and that does bode well for Arsenal's future.
For the present, though; Chambers, when the move is confirmed, will look to make an immediate impression. And the manner in which he played last season, there is nothing stopping him from giving Debuchy a real run for his money for the right-back slot.