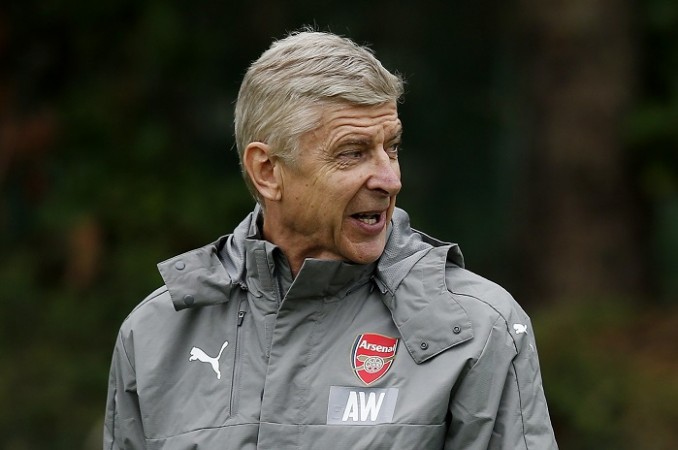 Arsene Wenger will celebrate 20 years as Arsenal manager on Saturday, and the club's greatest ever coach reflected on his time at the club – the ups, downs and superlative heights. Calling it a "love affair", Wenger also admitted his time at Arsenal could be at an end, come the end of this season.
The Frenchman's current contract ends in the summer of 2017 and the feeling is, win or lose – the league title, the Champions League, the FA Cup -- he might call it a day, with several names being thrown around as his potential successor.
Wenger, though, insisted any decision on his future will be made by if he thinks he is still the right man for the job at Arsenal.
Asked if he sees himself as Arsenal manager celebrating his 25th anniversary at the club, Wenger replied: "I don't know. I think I have one quality which is a passion for the game, and another quality is that I always have the desire to be better tomorrow than I was yesterday.
"If I look back, the way I manage today is not the same as it was five, 10, or 20 years ago. How long can I do? I don't know.
"I rule nothing out because I want to work and I want to do well. I accept that it can finish tomorrow as well. It's a love story and you always expect a love story to last forever, but it can always stop suddenly.
"What will influence me the most is the fact that I feel I do well and can move this team forward."
The Arsenal team, this season, have certainly played well. After a difficult start, when they lost to Liverpool at home and were held to a draw by Leicester, Arsenal have won their next four Premier League matches, with an impressive performance put up against Basel in the Champions League as well on Wednesday.
Whatever happens at the end of the season, whether Wenger stays or goes, one thing is certain, he will have the backing of the club, the players and the majority of the fans.
"I've been helped by my resilience, passion and certainly the faith of the board, who stand by me," Wenger added.
"I believe that this club is brave and that's one of the good values of the club and we have shown through the years that we can have a good togetherness at the club. That is always the quality that came out through good and bad moments. We kept our feet on the ground and it always fell together.
"I think it is a privilege for me, I do not look back. Maybe what people will keep [from my time] is the 'Invincibles' year, but for me the job of a manager is to do the maximum with what you have available and that is what I try to do."