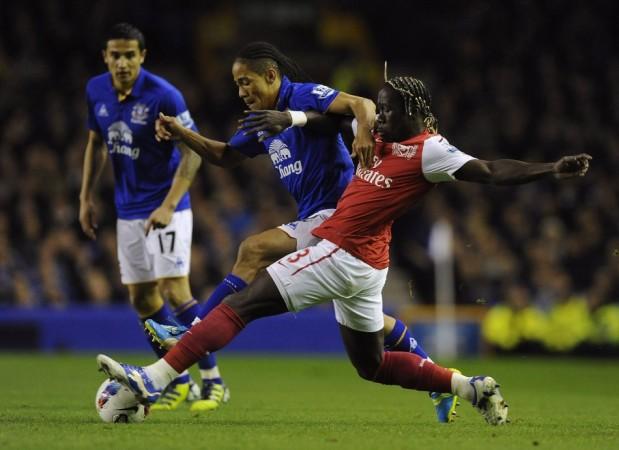 Barely ten days after IBTimes highlighted the vacuum Alex Song had left in Arsenal's midfield, defender Bacary Sagna has expressed his surprise over the exit of the Cameroonian footballer to Barcelona FC and questioned the transfer policy of the club.
Arsenal received flak from various quarters following back-to-back goalless draws against Sunderland and Stoke City in the first two English Premier League games, with many claiming that the transfer of Robin van Persie and Alex Song had taken a toll on the team.
"I expected the departure of Robin van Persie. We all expected it. But Alex was a surprise. He is 24 and had three years remaining on his contract. I still do not understand. It is a huge loss for the club. When you see the two best players of last season leave, you have a lot of questions," Bacary Sagna told French newspaper L'Equipe in an interview.
The 29-year-old France defender, who has been out of action for a while due to an injury, said he was jealous on seeing his ex-teammates Samir Nasri and Gael Clichy, who joined Manchester City, lifting the Premier League cup in May.
"I am the last player from the 2007 starting XI remaining. In May, I watched Manchester City show off. I watched Samir and Gael lift the trophy. That gave me a desire for it. I want that. Were they right to leave? Yes," he told L'Equipe.
So, is he planning to leave the team? "I just want to play again. Then we will see. Each person has his own destiny," he told the daily.
Prior to 2-0 win against Liverpool, Arsenal manager Arsene Wenger had admitted that something was missing in the team.
"[We will improve] by practising on how we want to move, on the quality of the final pass. Today we had Giroud, Podolski and Cazorla together up front - one month ago they didn't know each other. It is the department where we have the most new players," Arsenal official site quoted Wenger as saying.
Speculations were doing the rounds a few days before the transfer window was closed that Arsenal was eyeing several big names including Yohan Cabaye of France to strengthen the team but it never happened.