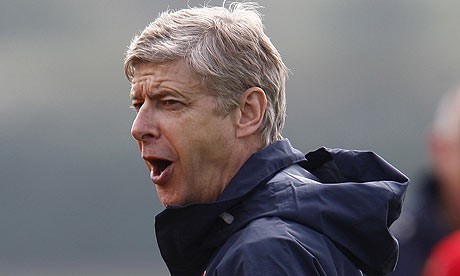 Arsenal manager Arsene Wenger must be having sleepless nights following back-to-back goalless draws against Sunderland and Stoke City in the English Premier League that began recently.
So, what went wrong with the Gunners?
The transfer of Netherlands striker Robin van Persie to arch rival Manchester United seemed to have taken a toll on Arsenal. He scored 37 goals in the last term. Arsene Wenger did admit that the newly signed players lack understanding.
Alex Song's transfer to Barcelona FC has also created a vacuum in the midfield. Arsenal may face midfield dilemma for a while, as England midfielder Jack Wilshere, who was not seen in action since last season following an ankle injury, is likely to return only in October.
Wenger has a reason to worry because the newly signed players - Germany striker Lukas Podolski, Spain midfielder Santi Cazorla and France forward Olivier Giroud - have not brought much difference to the performance of the team. He admitted that something is missing in the team.
"[We will improve] by practising on how we want to move, on the quality of the final pass. Today we had Giroud, Podolski and Cazorla together up front - one month ago they didn't know each other. It is the department where we have the most new players," Arsenal official site quoted Wenger as saying.
The Arsenal boss, however, defended the team's goalless draw in the last two games, pointing the defensive play of the opponents.
"It is never disastrous to take a point at Stoke but we lack a little bit of oil in our engine in the final third," he said. "What looks completely natural when we are at our best still is not there, and we have to work on that. I put it down to having new strikers and as well because we have played defensive teams who are very well organised - Sunderland and now Stoke."
However, he rubbished the talks that Van Persie's exit has affected the Gunners.
In the meantime, the Arsenal coach has expressed his desire to hire a "special" player before the transfer window closes on Aug 31, if opportunity arises.
Speculations are doing the rounds on the possible players who could join the Gunners this season. Names like Yann M'Vila of France, Philippe Mexes of France, Cheikh M'Bengue of Senegal, Cheick Tiote of Ivory Coast, Jesus Navas of Spain and Yohan Cabaye of France are on the list but Yann, Tiote and Cabaye are the strongest prospects if the current scenario of Arsenal is anything to go by.
It looks like the missing link in the present Arsenal team is the "midfield".