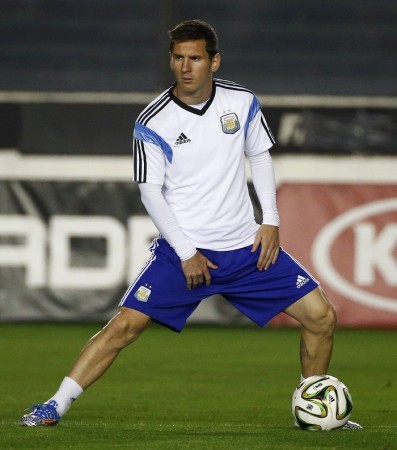 Argentina superstar Lionel Messi had reportedly considered a move to Arsenal along with former teammate Cesc Fabregas before signing a new contract with Barcelona, after the end of the 2013/14 season.
According to Vozpopuli, the 27-year-old striker was not happy in Barcelona last season, having endured a difficult campaign under former boss Gerardo Martino.
Despite the likes of Manchester City and Paris Saint-Germain being reportedly interested in his signature, some reports claim that Messi was looking to make a sensational move to Arsenal, having already spoken to Fabregas about life in the north London club.
The report further added that Messi had asked his agent to hold talks with the Gunners, even though the Argentinean's £250 million release-clause plus £12m per season salary was way out of Arsenal's reach.
However, at the end Fabregas moved to Chelsea, with Messi staying put at the Nou Camp.
The Argentinean then became the highest paid footballer with a salary of £16.3 million-per-year after penning a new contract with Barcelona.
Meanwhile, Abou Diaby feels that it is very important for him to prove his fitness in the preseason, as he looks to seal a spot in the Gunners' first team next season.
The 28-year-old midfielder, who missed almost the whole of last season after suffering from a torn anterior cruciate ligament in his left knee, says he was pleased to play for 45 minutes during Arsenal's 2-0 win against Boreham Wood on Saturday.
"I haven't done that [play 45 minutes] for one year so I was really happy to be back in a normal game. I hope it's going to stay like this," the Frenchman told Arsenal's official website.
"Preseason has been really good so far, we still have three weeks and I hope to complete 90 per cent of it and that will be a successful one for me."
The Gunners next play the New York Red Bulls in the US, and Diaby says he is looking forward to playing against his former Arsenal and France teammate Thierry Henry.
"It's always good to travel to New York and we play against a good team and an old friend," he added. "It's very exciting. It's always good to play against a legend and we look forward to that."