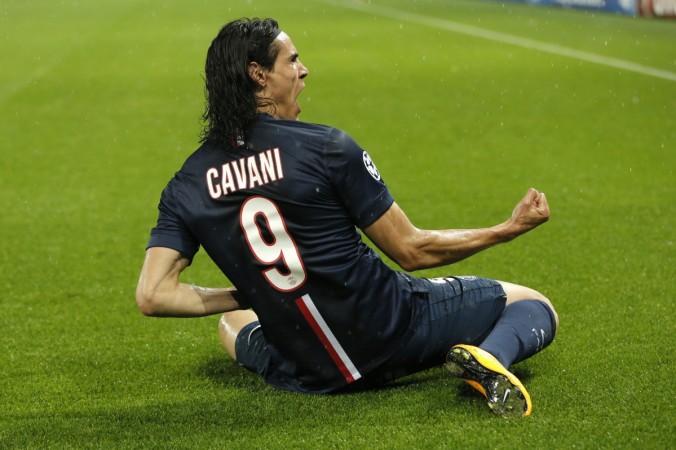 Arsenal manager Arsene Wenger has bought marquee signings in Mesut Ozil and Alexis Sanchez over the last couple of summers, and it could be a hat-trick of big names coming in three straight summer transfer windows with Edinson Cavani reportedly pining for a move to the Emirates.
Cavani and PSG have not been a match made in heaven, that much has been clear since the striker's move from Napoli in the summer of 2013.
Reports of a possible move away just does not cease, with those stories only intensifying when Cavani came in late from his winter break, which led to him missing PSG's overseas midseason trip.
The Uruguayan was fined for his indiscretion, and manager Laurent Blanc refused to rule out a move, even if he did insist a January transfer was unlikely.
"It's not impossible that one of our players will leave," he told Bein Sports.
"Thiago Motta, [Ezequiel] Lavezzi and Cavani? None of them has asked me to leave, and, moreover, it would be difficult for me to let them go.
"We have no offers from other clubs."
A January move of such magnitude is always hard to manufacture, especially with Cavani set to be ineligible to play in the Champions League for another club this season. The striker himself has reportedly said he wants to try and win the Champions League with PSG before looking for a transfer in the summer.
That transfer could very well be to Arsenal, with the North London club being the 27-year-old's preferred destination, according to the Daily Express.
Reports suggesting Cavani's preference over a move to Arsenal have been doing the rounds for a while now, which suggests that there might be some truth to them, or that the player's agent is working hard to try and convince Arsene Wenger to shell out all that money to bring the player to the Emirates next season.
Either way, it would seem that Arsenal are in pole position to sign Cavani, and as Wenger has shown with the signings of Ozil and Sanchez, paying big money is not a problem anymore if he believes that player is worth it.
However, that will be the biggest question to ask, with Arsenal well and truly stocked when it comes to strikers. Olivier Giroud keeps showing just how vital he is for Arsenal with his play as the lone central striker, while Wenger has plenty of other options in Danny Welbeck, signed only last summer from Manchester United, Theo Walcott, Sanchez, Yaya Sanogo, who Wenger rates highly, and Joel Campbell to name a few.
With the likes of Chuba Akpom coming up from the youth levels as well, there is little chance of Wenger going in for Cavani, who could cost Arsenal in excess of £50 million in transfer fee alone, unless he decides to sell a few of his strikers at the end of the season.
The chance to sign a player of Cavani's quality could be reason enough for Wenger to do just that, but only time will tell where the Uruguayan will end up playing next season.