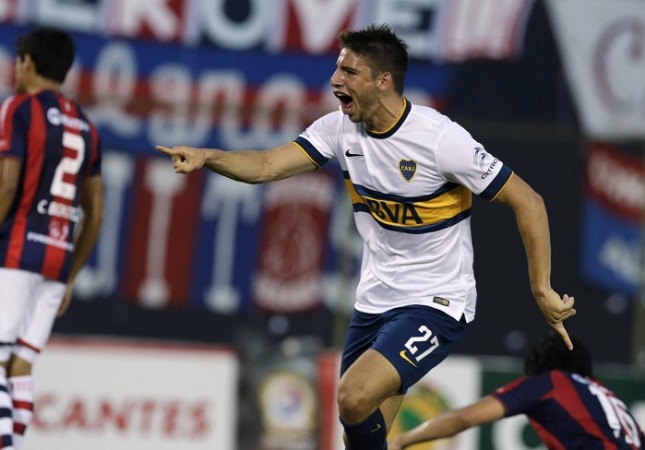 Arsenal are confident of completing a deal to sign Jonathan Calleri from Boca Juniors in the January transfer window.
Despite Arsenal having plenty of options up front, even with all the injuries, Arsene Wenger is still looking at ways to strengthen the attacking line, and having given up on the signing of Paulo Dybala, owing to Palermo's exorbitant demands, the manager is keen on Calleri, who has been dubbed the "new Gonzalo Higuain."
Arsenal were extremely close to signing Higuain in the summer of 2013, but missed out on the capture with the Argentine joining Napoli, and Wenger seems to have now gone for the next best thing.
Wenger is all ready to put in a bid to Boca Juniors for Calleri, and Arsenal remain extremely confident that the forward will be an Arsenal player before the transfer window closes, according to Fichajes.
It remains to be seen just how far this rumour will go, considering Arsenal require a central defender and a defensive midfielder more than anything else in January.
It is never easy to sign a player from South America, with work permit issues also coming into play as well, but Wenger does have a penchant for signing young attacking players who he thinks can become world-class.
At 21, Calleri, who has 9 goals and three assists in 23 games, is not exactly a child prodigy, and Wenger will be confident of getting the best out of him if, as the report suggests, a transfer is completed in January.
Calleri is a player, who can play in all three positions up front. Wenger does have the habit of playing central players out wide and vice versa, and the Fichajes report suggests Arsenal are keen on Calleri immediately becoming a part of the first team.
So, it will be interesting to see where the youngster will play, considering Wenger's embarrassment of riches in the forward positions, even after allowing Lukas Podolski to join Inter Milan on loan.
Having said that, however, Wenger has admitted he is looking to send one of the attacking options – Yaya Sanogo – on loan in January, with Joel Campbell also being tipped for a temporary move away.
If those two players leave Arsenal in the January transfer window, then it might open up a place for a player like Calleri to come in, but expecting a 21-year-old to come from South America and make an immediate impact at Arsenal might be unrealistic, no matter how talented he might be.