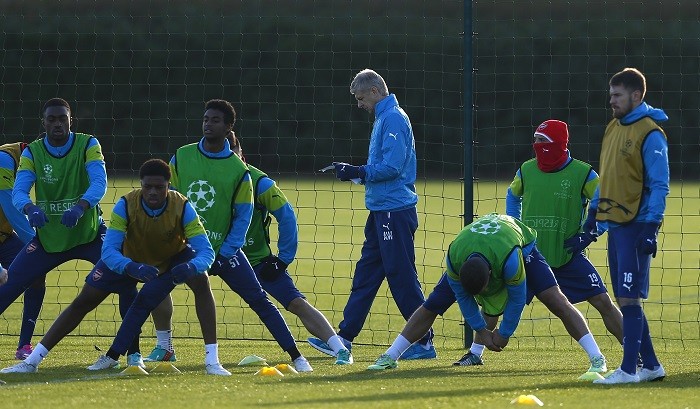 Arsenal manager Arsene Wenger looks like he has as good as completed his first deal of the January transfer window, with midfielder Krystian Bielik confirming he is on the verge of a move to the Emirates.
Bielik, dubbed as the "new Patrick Vieira" had flown into London to discuss a possible move to Arsenal from Legia Warsaw after the English Premier League club reportedly made a bid of around €2 million (£1.6 million).
The Polish midfielder, and his family, were shown around Arsenal, with Wenger personally meeting the highly-rated 16-year-old and chalking out plans he has for his future.
Bielik spoke to the Polish press in a manner which led you to believe that he had pretty much made up his mind to join Arsenal, with the only thing seemingly remaining Arsenal's confirmation of the immiment move and/or the deal being agreed with Legia Warsaw.
"Wenger said what he sees in me, then asked me about my strengths," Jeorge Bird's Arsenal Youth, citing the Polish press, quoted the midfielder as saying. "It turns out that we had a similar opinion.
"He said I would start training with the first-team under his guidance, and then it all depends on me.
"He knows that I have the skills, and I am determined to win and he wants to sign me as soon as possible to start working with me.
"I would train with the first-team and play in the junior teams -- U18, U19 or U21 -- and Wenger says that if I am good enough to stay in the first team, I will remain in it."
If Wenger sees Bielik as a possible first team player at such a young age, it does say a lot about the midfielder's talents.
Standing at well over 6ft at just 16, Bielik is expected to blossom into a highly potent defensive midfielder, having already made his presence felt in the Legia Warsae senior squad.
Arsenal desperately require a defensive midfielder in their ranks at the moment, and even if Bielik is a long-term option -- not one that Wenger can use immediately -- it will give the Gooners out there some comfort knowing they have a potential star in the making in their youth ranks.
And, of course, if Bielik even remotely lives up to his tag as the "new Patrick Vieira" then Arsenal fans around the world will, no doubt, be signing his name with great vigour soon enough.