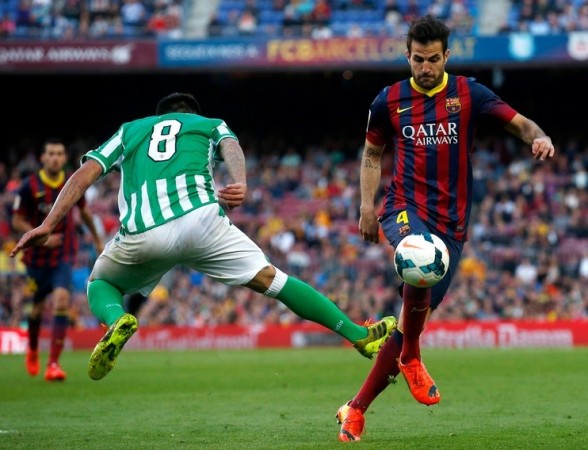 A couple of days after Jose Mourinho claimed Cesc Fabregas was not too keen on joining Arsenal with Chelsea, his new club, being his first choice, Arsene Wenger would not be drawn on those comments, suggesting all parties involved in the major summer transfer were happy.
Arsenal were thought to be favourites to land Fabregas from Barcelona after it became clear the midfielder would be ending his three-year stay at the Camp Nou. However, Wenger, with midfielders left, right and centre at his disposal, decided not to pursue the former Arsenal captain's signature, despite having first-choice, allowing Chelsea to swoop in and complete what could be a decisive signing.
Mourinho claimed getting Fabregas to join Chelsea was quite easy, alluding to the fact that the Spain international was not open to a switch back to Arsenal, the club which turned him into a world-class footballer.
When asked about Fabregas' transfer to Stamford Bridge, Wenger was a little cryptic. "I think people came out and said he wanted to go to Chelsea," Wenger said. "I don't know who tells the truth here or not. He landed where he wanted to go."
Those words does seem to suggest that Fabregas eventually landed up where he was happy to play, with the primary reason behind the midfielder's move to Chelsea thought to be his family's preference to stay in London.
The likes of Liverpool, Manchester United and Manchester City were also interested in Fabregas' signature, but after it became clear the Arsenal move wasn't an option, especially with Mesut Ozil in the lineup, Fabregas chose Chelsea over the other clubs.
"Move to Chelsea? I have nothing to say. I decided it was time to leave Barca and I looked for the best option for me," Fabregas said on completion of his move to the Blues last month.
"Arsenal was first option, but Wenger said he had Ozil at my position. I had 2-3 other options in England, Mourinho won me over."
While the decision not to spend nearly £30 million on Fabregas seems like the prudent decision, considering the ridiculous amount of attacking midfielders available to Wenger, only time will tell if the player will have the final say in the English Premier League title race.
Fabregas, after all, is a proven Premier League player, and one easily capable of turning on the style (that word is used loosely, considering it is Chelsea) when required.