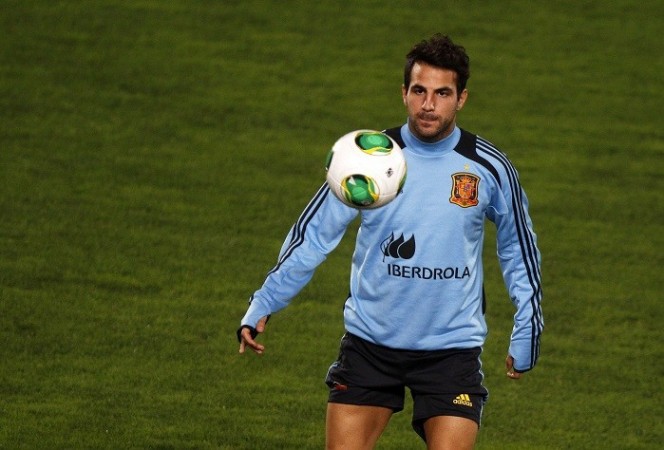 Cesc Fabregas, after completing his move to Chelsea, admitted Arsenal manager Arsene Wenger had decided against making a move for his former player. However, according to the Blues manager Jose Mourinho, Fabregas was never even open to a switch back to the Emirates, with the option of playing at Stamford Bridge under the Portuguese manager always being his first choice.
When it became clear that Fabregas' stay at Barcelona was about to end, Arsenal looked like being the obvious choice for the Spain international, who made his name under the tutelage of Wenger.
The Gunners had a first option clause inserted into the deal which saw Fabregas move to Barcelona three years ago, and Wenger himself had admitted he envisaged his former captain one day returning to play for the North London club.
However, with Arsenal spending a club record fee to bring in Mesut Ozil from Real Madrid in the previous summer, and with Wenger having an embarrassment of central midfielders at his disposal, the possibility of a move back to Arsenal was nipped in the bud – whether by Fabregas or Wenger is up for debate.
As far as Mourinho, always a man to stoke up a rivalry, is concerned, though, Fabregas had eyes for only one club, once he decided on a return to the English Premier League, with Manchester United, Manchester City and Liverpool also linked with the midfielder at some point of time.
"I spoke with him for 20 minutes," Mourinho told BT Sport. "I think he really wanted to come to us.
"As you know, Arsenal had an option where they could interfere, but I think he was not open to that, I think he was very, very much in our direction, so it was an easy job for me."
Chelsea have made some impressive signings in this summer transfer window, bringing in Diego Costa and Filipe Luis from Atletico Madrid apart from Fabregas, with Croatian 19-year-old Mario Pasalic also joining the bulging youth talent tanks at Stamford Bridge.
As far as the manager is concerned, it is job well done for the Blues in this summer transfer window, with Mourinho revealing more new faces coming in to the club are unlikely.
"I don't think we will sign any more players," he said. "The market is open, but we are so happy with what we have. We feel that our squad is what we want.
"We don't want a squad of only end products. We also want to bring to the first team, three or four under-21s, we are going to develop players and are happy with this balance we have."
Mourinho also expressed his delight at having wrapped up his major transfer business before the end of July, with the manager now able to concentrate fully on preseason and that tilt at the Premier League title.
"I have to say my club did a fantastic job, and not just because of what we bought, but because we did it in almost record time," Mourinho added. "The transfer market closes 31 August and we close our market on 19 July. We finished the market.
"The club did fantastic, we knew the targets, we knew the players and the club attacked them and their clubs at a very early stage. We got exactly what we need and what we want. The squad is one which I like very much and I look forward to starting the season."