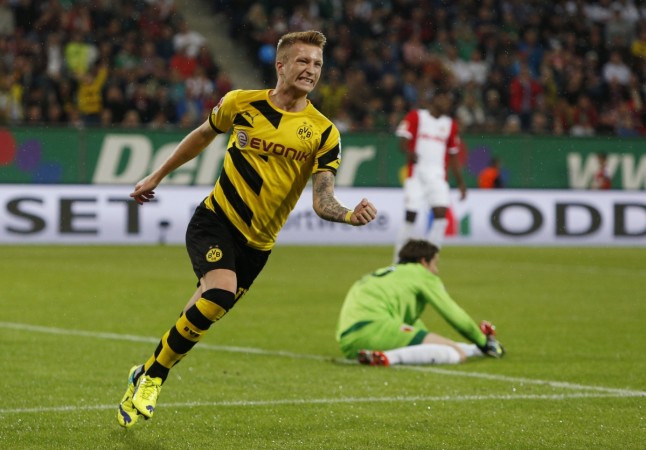 Borussia Dortmund forward Marco Reus reportedly does not want to join Arsenal as he believes that the Gunners are not capable of winning trophies.
Arsenal were being heavily linked with a £27.6 million move for Reus this summer, but a deal failed to materialise due to the German picking up a serious injury just before the 2014 World Cup, according to the Metro.
Now after Reus regained his fitness, the Gunners again reignited their interest in him especially after reports of the 25-year-old wanting to leave Westfalenstadion, following the Die Borussen's poor performances in the Bundesliga this season.
Also, there were reports of Arsenal's other German players including Mesut Ozil and Per Mertesacker trying to convince Reus to move to London.
However, the former Borussia Mönchengladbach forward, who is also being pursued by a host of other clubs including Barcelona, Manchester United, Liverpool and Chelsea, has reportedly dented Arsenal's hopes of landing him by saying that he does not want to join a team that is incapable to winning silverware, according to the Sun.
"Reus wants to win titles and he is worried this would not happen at Arsenal," a source told the Sun.
Meanwhile, Arsenal defender Per Mertesacker is convinced that his side can get their season back on track if they learn from their mistakes.
Despite initially playing well against Anderlecht and Swansea City in the Champions League and the Premier League respectively, a lack of focus towards the end saw Arsenal concede late goals and throw away the two matches.
And the 30-year-old German, who insists that Arsenal have the potential, is positive the Gunners will start doing well once they start learning from their mistakes.
"We have the potential and we have to extend 60 minutes [of performance] to 90 minutes, that's not a big issue," Mertesacker told Arsenal's official website.
"We struggled a bit but we have great potential and you can see that. Now, we have some time to think about the few issues that cause trouble because we made mistakes in areas we have to avoid."