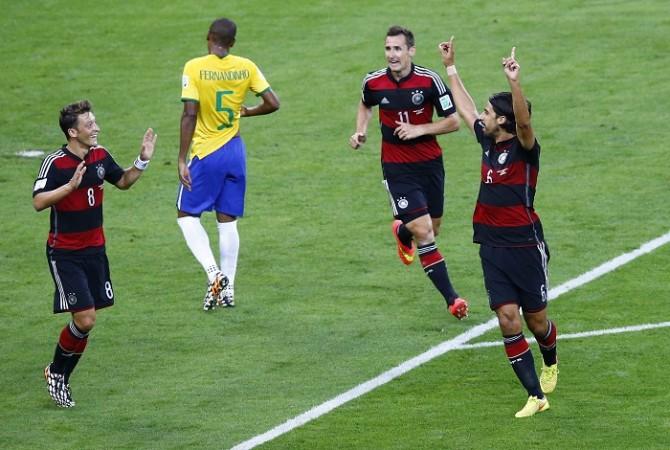 Sami Khedira has looked set for a move to the English Premier League – be that with Arsenal, Chelsea or Manchester United for a while now. However, the Germany international midfielder is now ready to make a u-turn and stick with Real Madrid, owing to fears over the quality of football in the English Premier League and having watched his compatriot Mesut Ozil struggle with Arsenal.
Khedira was heavily linked with a move to Arsenal in the summer transfer window, with Lukas Podolski even hinting at one time a deal was done. However, no move materialised and the midfielder remained at Real Madrid with the European champions deciding instead to sell Xabi Alonso to Bayern Munich.
The 27-year-old has been heavily tipped to leave Real Madrid in the January transfer window, though, having still not signed a new contract; Khedira's current deal with Real expires at the end of the season.
Arsenal, Chelsea and Manchester United are all thought to be quite interested in the midfielder's signature, with Khedira widely expected to sign for one of the three English Premier League giants.
Those chances only increased when Real Madrid manager Carlo Ancelotti admitted Khedira could leave in January. "There are indications that Khedira is going to go, but he shows he likes Madrid and nothing is sure yet," Ancelotti told Spanish radio show Al Primer Toque.
However, Khedira now looks like he might stay at Real Madrid and sign a new contract worth £3 million a year until 2018, according to the Daily Express.
The report claims Khedira has watched Ozil's displays at Arsenal since the playmaker's move to the Emirates in the summer of 2013, and has not been impressed by the Premier League's quality.
While Ozil set the Premier League alight with his displays in his first few matches since joining Arsenal, he has struggled a little for consistency since, and is currently sidelined with a long-term knee injury.
It is way too early to judge Ozil at Arsenal, and Khedira, of all people will know that as well as anybody. And while the top-quality players in the Premier League has dwindled of late, it is still one of the best leagues in Europe, and easily the most watched in the world, which in itself should carry plenty of weight.