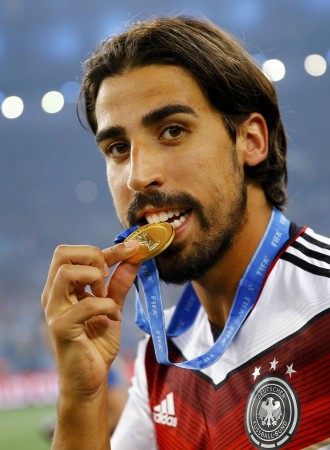 With the Spanish press claiming the Sami Khedira transfer to Arsenal from Real Madrid is as good as a done deal, a curve ball has been thrown by the player's agent with Jorg Neubauer claiming no contact had been made by any club as yet over a possible move in the summer transfer window for his client.
Khedira to Arsenal has been the story ever since Alexis Sanchez sealed his move to the Emirates from Barcelona, with a report in the Madrid-based newspaper Marca on Tuesday claiming a deal was pretty close while suggesting a fee had already been agreed between the two clubs and now all that remained was an agreement over a contract with the player.
However, if Khedira's agent is to be believed, then the hopes of Arsenal completing a transfer in a few days' time might have been a little premature.
"We are not in talks with Arsenal," Neubauer is quoted by the Daily Telegraph. "I don't think a fee can have been agreed, otherwise I would have been told."
Neubauer also confirmed he has not received any calls over interest from Chelsea, who have reportedly shown an interest in bringing the German international to the English Premier League.
"When a club have an interest I am sure they will call me and we will speak about things," he added. "The same goes for Chelsea."
The Khedira to the Premier League, specifically Arsenal, links all came about after the 27-year-old apparently rejected a new contract offer from Real Madrid. With the midfielder only having a year remaining on his current deal, a move away from the Bernabeu looked likely, particularly as the Spanish giants would not want to see their star player leave the club on a free transfer next summer.
Khedira's representative, though, poured cold water on those claims, insisting they were still in talks with Real over a possible contract extension. "We are talking to Real Madrid about his contract, but nothing is close to being decided," Neubauer said. "Sami has just returned from the World Cup and has gone on holiday."
Of course, agents' comments always need to be taken with a pinch of salt, and it is a real possibility that the move is much more advanced than claimed.
Arsene Wenger has zeroed in on Khedira as the perfect addition to his midfield, with the Germany international bringing in just that little bit more stardust to a team that is looking like they mean business for next season.
However, if the move falls through, the Arsenal manager could move in on Khedira's compatriot Lars Bender from Bayer Leverkusen, but the German club has so far refused to sell. Morgan Schneiderlin is another; but, again, Southampton have insisted they will not listen to offers for the France international.