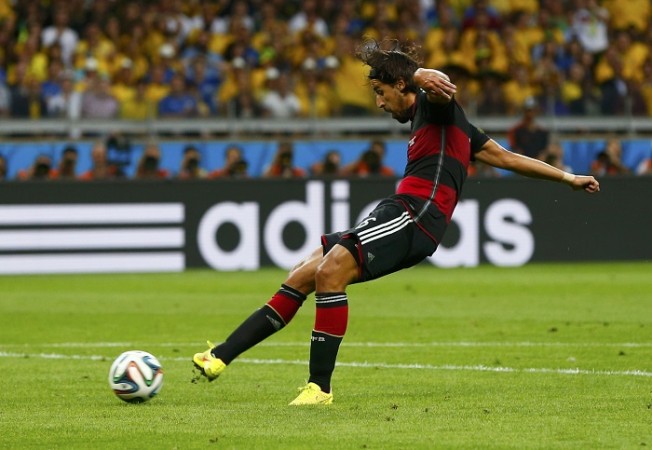 As if news over Alexis Sanchez completing a move to Arsenal wasn't enough to send most of Arsenal fans into dreamland, the fact that Arsene Wenger is close to agreeing a deal for Germany midfielder Sami Khedira would have added a little bit more fantasy to that dreamland.
Arsenal, if reports are to be believed, are in advanced talks with Real Madrid over a move for their midfielder, with the Spanish giants open to selling the German, who only has a year left on his contract, and has apparently refused to sign a new one.
Expecting Khedira to be an Arsenal player next season is a little premature of course, as the 27-year-old, no doubt, will have a lot more suitors if Real Madrid are indeed willing to let go of their player, which again is far from certain.
Latest reports suggest Chelsea are keen on Khedira, who played a starring role in Germany's astounding 7-1 thrashing of Brazil in the FIFA World Cup 2014 semifinal on Tuesday. Jose Mourinho is a big fan of Khedira, and the midfielder himself has previously spoken glowingly about his former manager.
However, Khedira is also really good friends with Ozil, and with Per Mertesacker and Lukas Podolski also in the Arsenal lineup, the German influence does give the North London side the upper hand. However, Even though Khedira only has a year remaining on his contract, Real Madrid are reportedly holding out for a fee of over £20 million, which has put off Arsenal a little bit, considering the club will have to pay around the same, if not more, than what Ozil and new signing Sanchez are earning – which is £140,000 a week.
There are also a few concerns about the fact that Khedira will not be the right signing for Arsenal to make in the midfield department. There is a feeling that what Arsenal really lack is a powerful, and that does not necessarily mean visually physically imposing, holding midfielder, who will mop up most attacks from the opposition and give a lot more protection to the back four.
As games against Chelsea, Manchester City and Liverpool proved last season, Arsenal struggle defensively against the big teams who can attack with pace and make full use of any giveaway in midfield.
Hence, a player in the mould of Javier Mascherano, Lars Bender, who can play both as a box-to-box midfielder and as a sitter, or Morgan Schneiderlin, whose stats show he just could be the best defensive midfielder in the English Premier League, would fit that role more perfectly than Khedira.
Khedira, after all, is not a purely defensive midfielder – he is someone who likes to get forward quite often and make those runs late into the box. And with Arsenal already having Aaron Ramsey who plays that role to stunning effect, it could be a bit of too many cooks spoiling the broth situation.
However, Khedira has shown his capabilities on the defensive end before as well, and Ramsey, as he showed last season, is as all-round a midfielder as you are likely to get. Fernandinho and Yaya Toure work so well as a unit because when one goes on the attack, most usually Toure, the other sits and vice versa.
While Arsenal leave themselves all too open on the counter-attack quite frequently -- such is the philosophy under Wenger -- that does not necessarily mean the team needs a purely defensive midfielder. If Khedira and Ramsey, who will be the first choice partnership if the transfer does happen, can play together and understand each other's positions, then there is absolutely no reason why it should not work without compromising on the defensive aspects.
Wenger will also have the option of playing a 4-3-3 with Ramsey, Khedira and a more defensive minded midfielder together, with an explosive front three to complement that midfield – something that can work wonders with the pace of Alexis Sanchez and Theo Walcott.
Ozil does not like to play out wide, you say, as he has shown for Germany in their own 4-3-3 formation. Then, Wenger can play a 4-3-1-2 formation, with Ozil sitting in the hole behind two strikers. The possibilities, of course, are endless, and as Wenger, himself has said many times before, there is always a place in the team for great players.
Wenger, though, is also notoriously rigid when it comes to changing team formations, and the most likely lineup come next season will be the tried and tested 4-2-3-1, which would mean that Khedira or Ramsey, if they play together in the base of the midfield, will have to take turns in playing the holding role.
However, something that is also overlooked because of those big defeats last season is that Arsenal had one of the best defences in the league, and in the majority of the games, Wenger's men can afford to attack without too many worries. The manager then has the option of playing a more defensive-minded midfielder – say Mathieu Flamini, or even Francis Coquelin, is he stays, in those big games.
The only worry is that Sami Khedira is a little injury prone, and with Ramsey also suffering a few long-term injuries in the past, as well as last season, there will be a bit of trepidation on whether the two of them will be able to play the whole season together. But then, if one, say Ramsey is out injured, there is a readymade replacement in Khedira and vice versa, which Arsenal did not have last season.
At the end of the day, the positives outweigh the negatives, and signing Khedira this summer will only make Ozil feel just that little bit more at home, and we all know, if Ozil is in the zone for an entire season, then Arsenal can expect big things.