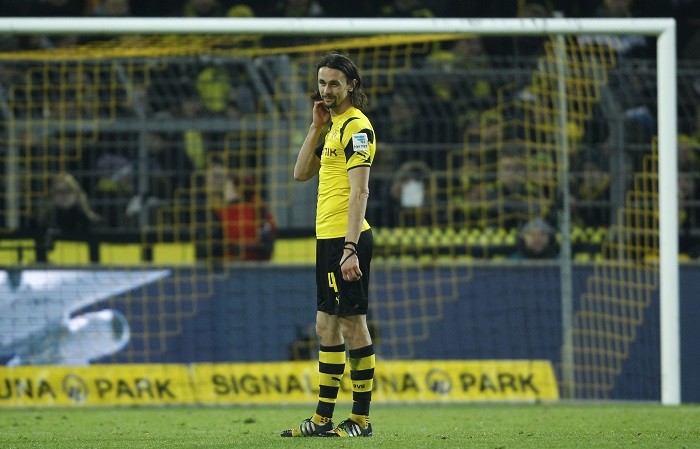 Arsenal are reportedly considering making a move for Borussia Dortmund defender Neven Subotic in the summer as manager Arsene Wenger looks to fortify his backline.
With there being doubts about Per Mertesacker's long term future at the Emirates following some poor performances at the heart of the Gunners' defence this season, the North London club are reportedly looking for a replacement.
Although Arsenal signed Brazilian centre-back Gabriel Paulista from Villarreal in January, it is believed that the Gunners are looking for a more experienced defender.
And according to ESPN, Wenger is reportedly eyeing a summer move for Subotic, who reportedly meets all of the Gunners requirements.
The 65-year-old Frenchman, who has been a long-term admirer of the Serbian, reportedly feels that Subotic's addition will help Arsenal challenge for the Premier League title next season.
However, the Gunners will not be able to land the Serbian international, who only has a year remaining in his current contract with Dortmund that easily, as he is being coveted by a number of top clubs including Juventus, Roma and Napoli.
The 26-year-old Serbian, who moved from FSV Mainz 05 to Dortmund for an undisclosed transfer fee in the summer of 2008, has been one of the key players for the German side over the years, helping them lift many trophies including two back-to-back Bundesliga titles in 2010–11, 2011–12.
However, the only disadvantage Subotic has is that he is very injury prone, having missed large portions of the last two seasons due to knee problems.
Meanwhile AC Milan forward Stephan El Shaarawy says that he is pleased to hear about Arsenal's interest in him.
Many reports in Italy have been linking Arsenal with a move for the 22-year-old, who has been out of action for the last five weeks following a broken metatarsal.
And the Italian says that he is "gratified" after hearing these reports despite him claiming that he is fully focused on helping AC Milan once he recovers from his injury.
"I am gratified by Arsenal's interest, certainly, but my objective is to come back for Milan and do well at Milan," said El Shaarawy, according to the Mirror.
On being asked when he will be back from his injury, the Italian replied: "I am recovering well, later this week I should be removing the cast and then the rehabilitation process can begin."