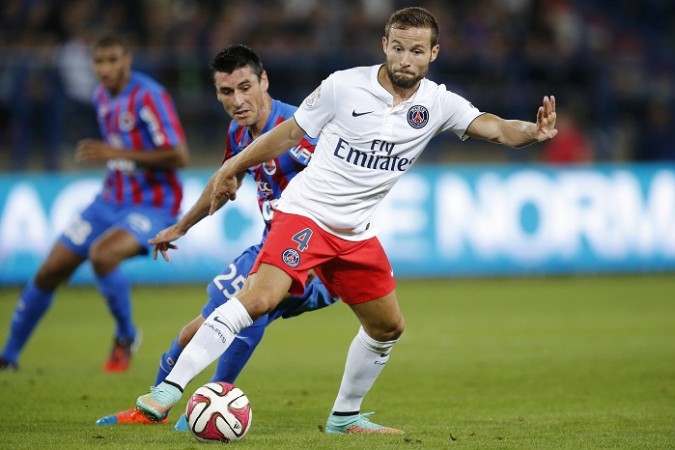 Arsenal are reportedly considering a summer move for Paris Saint-Germain midfielder Yohan Cabaye.
The 29-year-old, who moved from Newcastle United to PSG in January 2014 for a reported £19 million, has failed to establish himself as a first team regular at the Parc des Princes, starting in only 13 Ligue 1 games this season.
Now with there being reports of the Parisians looking to land Xavi Hernandez, who has confirmed that he will be leaving Barcelona to join Qatari club Al-Sadd on a two-year contract this summer on a season-long loan deal, Cabaye is believed to be keen on leaving the Ligue 1 as his first team chances would be further limited if the 35-year-old Spaniard were to accept PSG's offer this summer.
And according to the Metro, Arsenal are reportedly interested in bringing the 29-year-old to the Emirates this summer.
The Gunners had tried to sign Cabaye from Newcastle in 2013 but the Magpies had rejected Arsenal's bid of £10 million for the midfielder.
Now with the 29-year-old Frenchman keen to leave PSG this summer, it is believed that a £10 million bid will be enough to convince the Ligue 1 one side to part with their midfielder.
The addition of Cabaye to the Arsenal squad, which is currently lacking in quality central/defensive midfielders, would certainly prove to be beneficial as the midfielder has experience playing in the Premier League, having been at Newcastle for nearly three seasons.
Meanwhile, Arsenal striker Olivier Giroud says that he plays football to "make history" and is hopeful of leaving his mark at the Emirates so people will remember him when he retires.
"I play football to make history, to make my family and friends proud," the France striker told Arsenal Player. "In several years, when my career is over, I would like to leave one or two good memories of my time here with Arsenal."
The 27-year-old striker, who has played a key part in helping Arsenal reach the FA Cup final for the second time in a row, says that he is currently focusing on helping the Gunners win the cup for a record 12th time.
"I would like to win every trophy that I can so one more would be nice, and even more to become the only team with 12 wins. It's the big trophy after the Premier League."