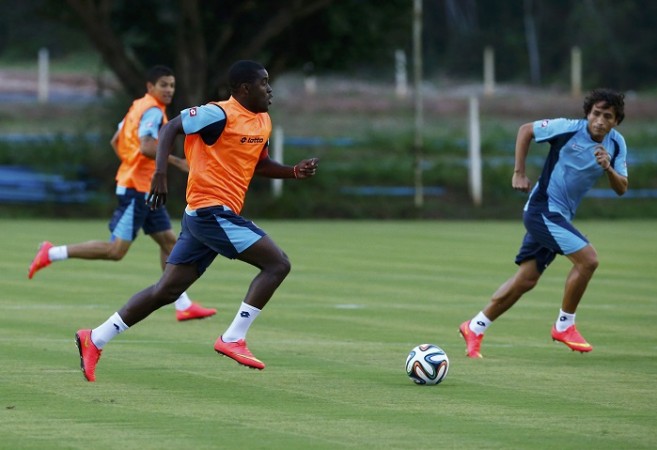 David Moyes, the former Manchester United and Everton manager is keen on signing Arsenal striker, Joel Campbell on loan and bolster his team's attacking line.
Moyes is eager to have a good season with Real Sociedad after joining the club on 10 Novemeber 2014. The Scot had to endure a torrid time at Manchester United after signing a six year contract with the club, but Moyes could not even last a full season with the Red Devils.
However, the manager is on a comeback trail and wants to prove his credentials as a top manager, which he had done in his Everton days.
Having known the English Premier League at the back of his hands, he must be aware of the number of players, who have not been able to justify their talents.
Joel Campbell is one of them, who the Scot wants to sign.
Arsenal signed Campbell in 2011 and he has been loaned out to a number of teams and has played only a handful number of games for the Gunners.
In the past three seasons the Costa Rican player has been loaned out to Lorient, Real Betis and Olympiacos, where he has put in some decent performances.
His last season loan spell was considered to be the best goal-wise, as he scored eight goals for Olympiacos. With such performance, one would have thought that the player would play for Arsenal a bit more and prove himself.
But, the Costa Rican player has yet again failed to prove himself, though lack of game time might be one reason. He has not been able to find the back of the net even once in his ten appearances for the Gunners this season, though most of those appearances might have come from the bench only.
Arsene Wenger might also be disappointed with Campbell's performance, for the player looked bright while representing his national side in the 2014 World Cup in Brazil.
But taking Joel Campbell would not be an easy task for the Scotsman, as the player has attracted interest from several other clubs across Europe, while Daily Mail reports that Moyes faces competition from Villarreal for the Arsenal striker.
With a number of strikers at Arsenal's disposal, it would not be surprising if the Gunner allows the player to move across to the La Liga on a loan deal. They have already allowed Lucas Podolski to move to Inter Milan on loan, while Yaya Sonogo is also closing in Bordeaux loan deal.