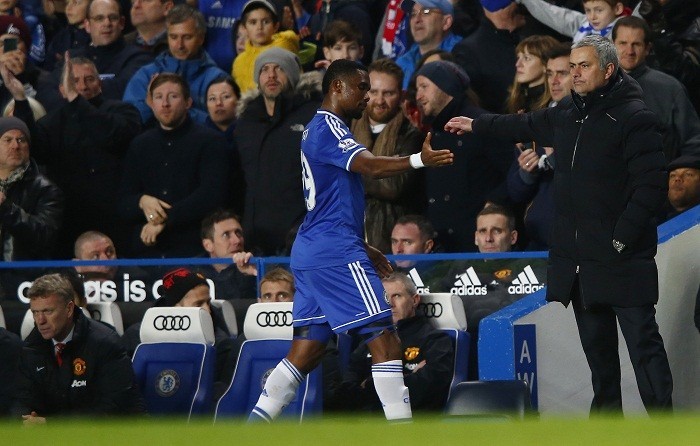 Cameroon striker Samuel Eto'o is reportedly open to joining Arsenal after his contract with Chelsea expires this summer.
According to the Mirror, the former Barcelona striker's agents have already told the Gunners he wants to come to the Emirates.
Arsenal, who currently only have Olivier Giroud, Lukas Podolski and Yaya Sanogo leading their attack, are keen on strengthening their frontline this summer.
Although the Gunners are thought to be on the verge of signing Real Madrid's youngster Alvaro Morata, they will need an experienced striker to lead their attack next season.
And the 33-year-old striker, who has played in some of Europe's biggest clubs including Real Madrid, Barcelona and Inter Milan, fits the bill.
Despite Chelsea reportedly being keen to keep Eto'o, who scored nine goals in the Premier League this season, the Cameroonian is reportedly keen on exiting Stamford Bridge.
Earlier this year, there was a big controversy after Chelsea boss Jose Mourinho commented on Eto'o's age, saying the striker was much older than he claimed to be. The former Inter Milan striker responded by scoring a goal for Chelsea and sarcastically holding his back near the touchline.
Though it seemed like Eto'o and Mourinho had buried the hatchet, the Cameroonian striker, who is currently preparing for the 2014 World Cup, took another swipe at the Portuguese manager, calling him a fool.
Due to the falling out with Mourinho, Eto'o is reportedly not willing to extend his stay at Stamford Bridge.
Although the 33-year-old has reportedly received some pretty lucrative offers from the MLS and the Middle East, he is keen to continue playing at the highest level in Europe.
Meanwhile, Kim Kallstrom is reportedly keen on returning to Arsenal despite only making a single start for the club last season.
The 31-year-old Swede, who joined Arsenal on-loan from Russian side Spartak Moscow in January, was unable to do much as he arrived with a back injury that kept him out of action for most of the season.
However, Kallstrom feels that this time he can do much more at the Emirartes.
"Yes, I can see myself returning to Arsenal, we will see what happens,"Kallstrom said. "I had a long talk with the manager, about everything. What was said will stay between us.
"But they were really happy with my work there. I had a fantastic time at Arsenal and I like their style of play because you get a lot of possession and can develop as a player."