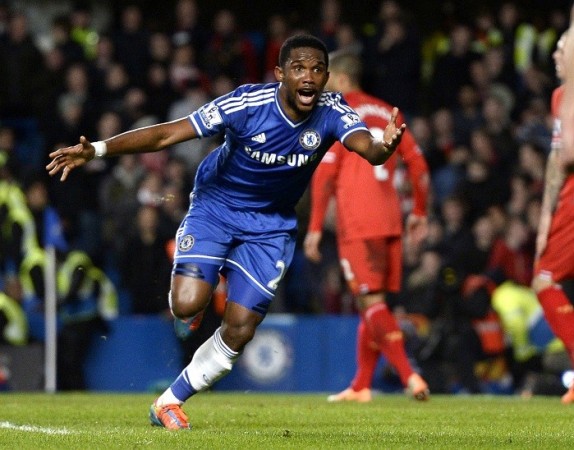 Samuel Eto'o has branded Chelsea manager Jose Mourinho a "fool" for his remarks about the striker's age.
The 33-year-old, who is expected to leave the Blues after contract expires this summer, has also dismissed suggestions of him joining a side in the MLS, saying that he will continue playing in the Champions League for as long as possible.
Earlier this year, Mourinho was caught on camera commenting on Eto'o's age, suggesting that the Cameroonian was much older than he claims to be. The former Barcelona striker responded by scoring a goal for Chelsea and celebrating holding his back near the touchline.
Though it looked like Eto'o and Mourinho had buried the hatchet, the striker, who is currently preparing for the 2014 World Cup, took another swipe at the Portuguese manager for his comments.
"Thanks for informing me that it will be my last World Cup. Today, I am 33 years old. And it is not because a fool called me an old man that you must believe it. And you may have noticed that the old man was better than the youngsters. Some believe I am going to retire in the United States or in the Middle East, but I have regained the joy of the Champions League and I am going to carry on playing in the Champions League. Where? I am not going to tell you," Eto'o pointed out.
"But I am going to carry on playing because physically and mentally I feel great. So I am going to go to this World Cup and to the next one when I will be 37. Some did it at 42, so I can still play in two more World Cups," he added.
Meanwhile, Chelsea are yet to make a decision on the future of their loan out Belgium stars Romelu Lukaku and Thibaut Courtois.
According to the Guardian, Mourinho has already submitted a report to the Blues hierarchy expressing his views on the first team.
It seems Chelsea are willing to offer a new contract to Lukaku, despite the expected arrival of Diego Costa from Atletico Madrid. But it is understood that the Blues are again looking to the loan out the striker, who enjoyed a successful spell at Everton (scoring 15 Premier League goals), for another season.
However, Chelsea will probably be looking to bring back Courtois, who has been very impressive at Atletico this season.