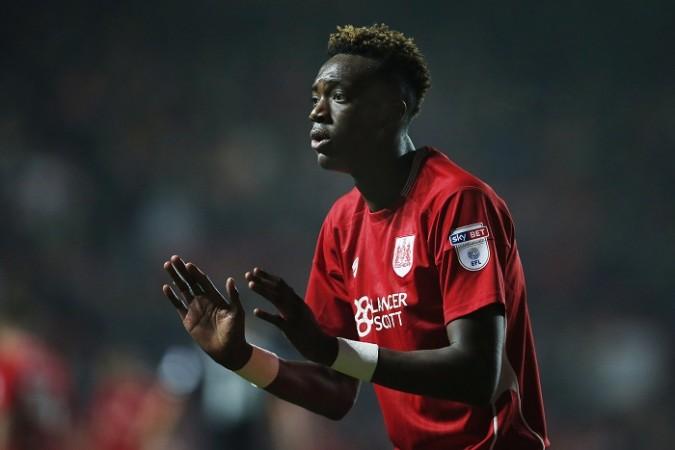 Arsenal definitely need to add reinforcements to their squad ahead of the next season if they are to challenge the likes of Chelsea, Tottenham and Manchester City for the Premier League title. According to reports, the Gunners have already snapped up Sead Kolasinac from Schalke on a free transfer and Arsene Wenger is also set to make a move for Chelsea's 19-year-old striker Tammy Abraham.
Abraham was on loan to Championship side Bristol City for this whole season and despite them struggling and finishing 17th on the table this was a season to remember for Abraham. The forward came through the Chelsea youth system and proved to Antonio Conte and the footballing world that he is a special talent.
Also read: Antonio Conte targeting two Roma players for next season
The youngster scored a total of 23 goals in the Championship, which is the second highest in the league, and 26 in all competitions, including four assists. Abraham will be eager to break into the Chelsea first team next season but if he fails to do so, Arsenal are ready to make a move for the highly-rated forward.
Reports say that Abraham is convinced he deserves a shot in Chelsea's first team next season and with Diego Costa's future uncertain and Michy Batshuayi still struggling to settle in, he could be the next striker to lead the Chelsea attack.
Check out all of Tammy Abraham's 26 goals for Bristol City.
Abraham has a contract with Chelsea that runs till 2019 and reports say that if Conte does not make him a first team regular next season, he will look for a new club.
Arsenal will be expected to make a number of signings in the summer, including a forward. Wenger believes that he fits the bill and that he will be able to convince him to make the move to Arsenal next season should he decide to leave.
During an interview, Abraham admitted that he is still not clear as to what his Chelsea future holds and added that he would be open to a return to Bristol City next season.
"I've heard a few bits, this and that, but I'm not too sure what I'm doing yet and I haven't spoken to Chelsea about next season. I'm focused here before I end up shooting off back to Chelsea," Metro quoted Abraham as saying.
"Bristol is always going to be in my heart now but I'm not too sure what I'm doing. Bristol would be interested in taking me again but it's a situation if Chelsea want me to come back or want me to go somewhere else to develop in a different way. It would be nice to come back to Bristol in the future."