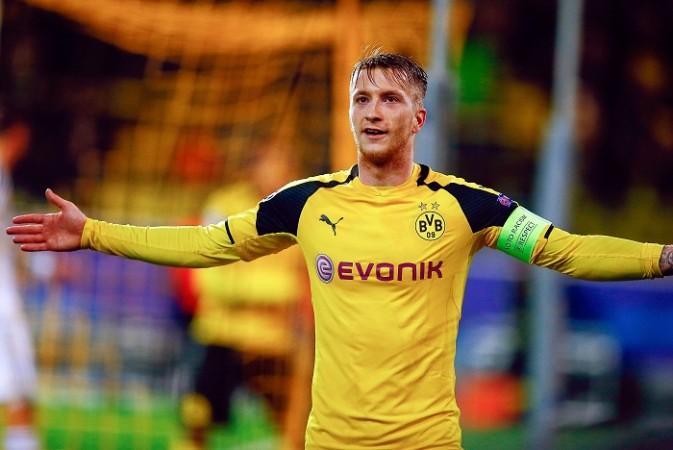 Arsenal have reportedly opened initial talks with Borussia Dortmund over the possibility of signing Marco Reus in the summer with Arsenal's top scorer this season, Alexis Sanchez, still to commit to a new contract.
Also read: FA Cup schedule for this weekend
Reports suggest that Arsenal officials are growing increasingly impatient with the fact that Alexis Sanchez is taking so long to commit to a new deal and have identified Marco Reus as his possible replacement in case the Chilean does not commit to a new deal by the end of the current season.
Alexis Sanchez has 18 months left on his current Arsenal contract and if he does not sign a new contract soon, Arsenal might be forced to sell him in the summer so that they don't lose him on a free transfer when his contract expires.
Arsenal are prepared to break their bank if they lose Alexis Sanchez and are willing to offer in excess of £50 million for the German international despite Reus still having two and a half years left on his Dortmund contract.
Borussia Dortmund will be under no pressure to sell Reus, but if Arsenal were actually to bid around £50 million for him, Dortmund might consider selling him considering that they have sold a lot of their star players in the past for a huge transfer fee.
Arsenal have been long-term admirers of the Bundesliga star and are willing to offer him a contract worth £6.8 million a year and a five-year deal.
Despite Marco Reus struggling with a lot of injuries in the past and also missing the 2016 Euros because of a torn adductor muscle, Arsenal are still interested in getting him to the Emirates Stadium. This season has been tough for Reus too as he missed most of the start through another injury, but he came back strong scoring four goal and having six assist to his name from just seven appearances.
Despite all these rumours about Alexis Sanchez and Marco Reus, Arsene Wenger is confident that his star player will sign a new contract soon.
"Alexis Sanchez is a committed player who wants to stay. I'm convinced we'll find an agreement. It has to be in our potential," Daily Star quoted the Arsenal manager as saying.