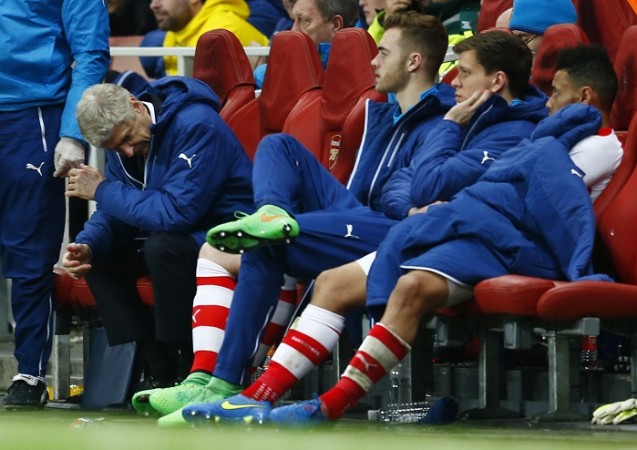 Arsenal boss Arsene Wenger lamented his side's 1-3 defeat to AS Monaco in the first leg round of sixteen of the Champions League, insisting that his side's "suicidal" defending cost them the game at the Emirates on Tuesday.
The Gunners went down to Geoffrey Kondogbia's strike in the closing stages of the first half, before Dimitar Berbatov doubled his side's lead right after the break.
Alex Oxlade-Chamberlain managed to pull a goal back in injury time, but Yannick Ferreira Carrasco restored the Ligue 1 side's advantage by scoring right at the death.
And Wenger, who says that it was "a horrible night" for Arsenal, admits that his side were very poor both in attack as well as in defence.
"We had both aspects wrong: we had chances that we did not take and were suicidal defensively because we were open on the second and third goals," said Wenger, according to Sky Sports.
The Frenchman also admits that his side are "guilty" of not being able to keep their "nerve" despite their "vast experience" in the Champions League.
"We knew at half-time it was important to keep our nerve and with the vast experience we have through this competition, we knew we could not afford this. And so on that front we are guilty."
"It is very, very disappointing, but Champions League is down to performance on the day and when you do not perform at the level that is requested for 90 minutes you are punished as the teams have the quality."
Despite claiming that luck was not on Arsenal's side, the 65-year-old Frenchman admits that Monaco played very well and deserved to win.
"We controlled the game quite well, but with their first shot they scored a deflected goal," added Wenger. "Everything went for them tonight, but on top of that you see as well why Monaco have done well in the group stage. They are well organised and physically very strong, they did not weaken through the game, but we did."
"We knew before the game they absorb you and hit you on the break, and what happened is exactly that. But congratulations to Monaco, they fought and defended really well and caught us on the break."
Finally Wenger despite acknowledging the fact that his side have a very difficult task ahead of them in the second leg, insists that his side will be looking to make things right at Monaco.
"We have a smaller chance but no matter how big the chance is we will go for it. We need to recover from this disappointment and prepare for the next game."