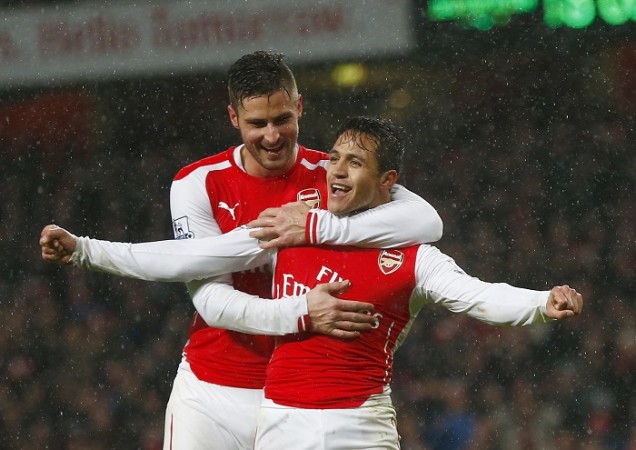 Arsenal manager Arsene Wenger hailed his attackers Alexis Sanchez and Olivier Giroud's "mental strength" and determination after they were able to successfully respond to their critics against Queens Park Rangers on Wednesday.
The Chilean forward, who has been in excellent form for the Gunners this season, scoring 19 goals from 38 appearances in all competitions, had not managed to find the nets in the last eight fixtures.
However he finally managed to end his goal drought during Arsenal's 2-1 win over London rivals Queens Park Rangers at Loftus Road on Wednesday.
And Wenger hailed the former Barcelona man for not giving up and showing resilience.
"It's good because when you don't score for seven or eight games it is on your mind even if you say it's not," said Wenger, according to ESPN. "But he took his chance well and he's tricky and has a short back-lift and scored a good goal.
"He never gives up and that's the strength of a good striker as well. He's resilient and he showed that he has the mental strength to respond."
Giroud also managed to hit back at his critics by scoring against QPR following his poor performances during Arsenal's 1-3 home defeat against AS Monaco in the first leg round of sixteen of the Champions League.
And Wenger also praised the French striker for his "mental strength" and his ability to respond to criticism.
"Olivier [Giroud] has that mental strength as well, he's strong mentally too. He can take criticism and respond, and he's shown that."
"I feel that was a bit harsh on him because he missed some chances but that can happen. We were all down after the Monaco game, but we responded well against Everton, and the confidence we got against Everton paid off tonight."
Arsenal were able to maintain their third position in the Premier League after their win over QPR, but the likes of Manchester United and Liverpool, who also managed to win on Wednesday, are right behind them.
And Wenger admits that he is now feeling the heat in the race for a place in next season's Champions League.
"It's hot up there, yes, because everybody won tonight," added Wenger. "We can only focus on our performances and keep going. We have 10 games to go, six at home four away, so we can only keep going.
"I haven't studied the other teams' games, but until mid-April there are five or so teams fighting not to go down and the same fighting to get into Europe.
"Whether the other teams have easier games I don't know. We were nervous in the first half I felt, and they competed physically. They stopped us playing all over the pitch and Sandro played a big part in that."