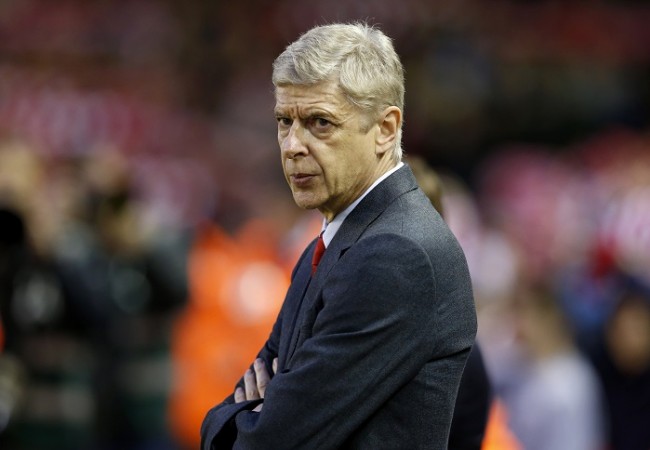 Arsenal manager Arsene Wenger showered praises on Olivier Giroud after the French striker's brace helped the Gunners beat Championship leaders Middlesbrough and advance to the quarter-final of the FA Cup.
The 28-year-old Frenchman, who proved to be a big menace to Boro's defence, struck twice in the space of two minutes close to the half hour mark to end Middlesbrough's FA Cup dreams
And Wenger lauded Giroud's performances, insisting that the striker has "improved" and has become a "different player" since his arrival from Montpellier in the summer of 2012.
"I believe that he [Giroud] is a different player today than the guy who arrived here for two reasons," Wenger told Arsenal's official website. "One, he understands what top-level football demands, works with a great concentration in training and he has improved tremendously on his mobility, his technical quality and of course his body is very strong. He uses it very well."
Meanwhile, the 65-year-old Frenchman also praised the performance of the rest of his squad, saying the he is pleased by the way his side were focused in attack as well as defence.
"We controlled the game from the first to the last minute," added the Frenchman. "They had one chance at the end from a header, but overall I'm pleased with the way we attacked, the way we defended and with the way we played together with a good focus for 90 minutes. That's basically it."
Still, Wenger insists that Boro are a "good side" and would have made it difficult for the Gunners had they managed to pull a goal back.
"They are a good side, well organised and if they had come back to 2-1 I think we would have struggled a little bit. They played good football with a good fluency in their game. We managed not to give them any chance today but overall you feel it is a good team."
Many believe that Arsenal are now the favourites to retain the FA Cup considering that the likes of Manchester City and Chelsea have been eliminated.
However, Wenger despite insisting that they want to defend the FA Cup, feels that it is still too early to pick favourites.
"We still have some big teams in there. Let's just wait until the draw. Of course we want to defend the cup," added the Frenchman. "It [the FA Cup] is difficult for everybody in the Premier League. It requires focus and good pace."