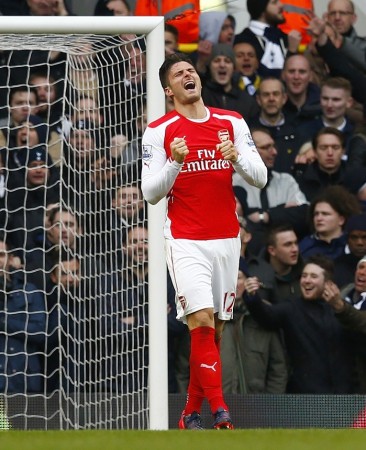 Arsenal striker Olivier Giroud has revealed that that coaches at the Emirates want him to be less "emotional" and "more of a killer" like Chelsea's Diego Costa.
Despite missing almost the whole of the first half of this season, Giroud has still managed to net eight goals from 15 Premier League appearances this season.
However, Giroud says that Arsenal coaches are not happy with his attitude, and they want him to be a ruthless striker like Costa.
"When I put my head in my hands after missing a chance, that annoys the coaches a little," Giroud told L'Equipe. "They want me to be more of a 'killer', almost insensitive.
"Diego Costa doesn't show any emotion. I am more emotional. So I have learned to control my emotions."
The 28-year-old Frenchman, who joined Arsenal from Montpellier for a transfer fee around £9.6 million in the summer of 2012, insists that he does not have an "inferiority complex" despite being not counted in the same class as Costa and Aguero.
"I don't have an inferiority complex. I don't have their name, but - in terms of stats - I am just behind Costa and Aguero," said Giroud.
The Frenchman says that he gets motivated whenever Arsenal are linked to a striker and his position in the club is threatened.
"When people are talking about a player to come and take your place, you take it personally because its your position," added the Frenchman. "I hear people say, 'They have Giroud and [Danny] Welbeck but they need a world-class striker.' Meaning, us, we're not world-class forwards."
"Recently, there was a buzz around Jackson Martinez. The coach has said good things about him, the player has said he would like to come. I learned that before the Middlesbrough game. It gave me added motivation. I was very happy to score those two goals."
However, Giroud admits that the arrivals of Danny Welbeck and Alexis Sanchez have somewhat eased the burden on his shoulders.
"I'm less isolated. Before, I was the centre-forward and it was up to me to score," added the Frenchman. "Now, the attention is no longer focused on a single player."
"There's more pace, more penetration. We're less predictable and there is more diversity. Danny likes to cut inside. Alexis can make the difference with the ball at his feet. He brings zest and a personality that we didn't have. He's a Duracell battery. He never stops. His hunger is infectious."