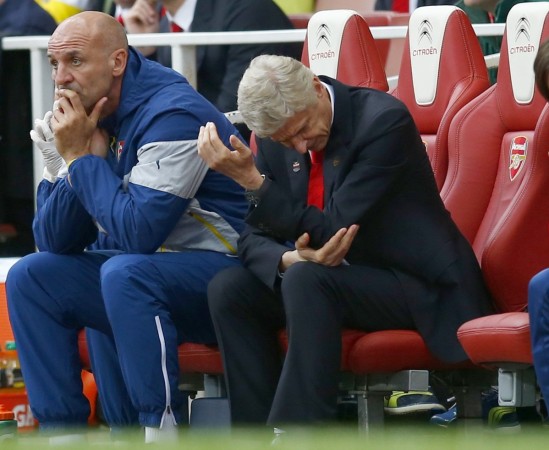 Former Arsenal forward Paul Merson has revealed that Gunners boss Arsene Wenger had begged him to stay, before he left the club and joined Middleborough back in 1997.
Merson recently incurred the wrath of Wenger by labelling the manager and players as "tactically clueless", after the club surrendered a three-goal lead to draw 3-3 at home in their Champions League fixture against European minnows Anderlecht last week.
Wenger laughed off his former protege's comments - branding the criticism as a "joke" - pointing out Merson's lack of experience as a top-level manager. The French tactician also said that he is "not interested" in the former England international.
Merson, who spent 10 years with the Gunners - winning two league titles, left the club for Middleborough in a £5m deal in the summer of 1997, after the Boro offered to double his Arsenal salary. And the 46-year-old has now stated that Wenger did not want him to leave and had requested him to stay.
"Not interested in Paul Merson? He was begging me to stay when he offered me a new contract," Daily Star quoted the Englishman as saying.
He also labelled Wenger's comments on him as "childish" and "weird".
"I think it's childish he's had a dig at me. I was surprised when I saw what he'd said about me. It shocked me. It's weird."
Merson, who worked as a player-manager at Walsall between 2004 and 2006, stressed that he has immense respect for Wenger, especially for revolutionising English football after being appointed as Premier League's first non-British manager. However, he opined that times have changed now.
"I respect Arsene Wenger. He's a brilliant manager. When he first came here he was far ahead of his time. But times change. He's got to understand it's my job to give an honest opinion. I was at Arsenal 14 years and I only say these things because I care."
Merson admitted that he was never a great tactician but stated Walsall never surrendered a 3-goal lead under him.
"I wasn't a great manager. But I don't remember drawing a game after going 3-0 up, and I never had a team full of internationals."