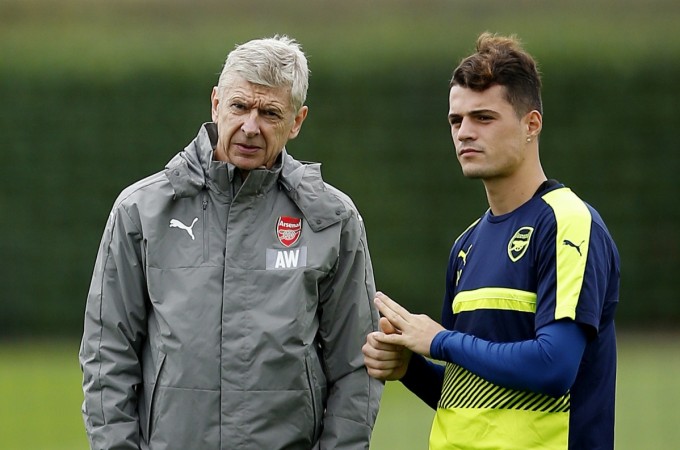 Arsenal midfielder Granit Xhaka may or may not have met Bollywood superstar Shah Rukh Khan, but the Switzerland international footballer does consider the Dear Zindagi star as a "friend". However, the 24-year-old, from the way it looks, is definitely an ardent fan of SRK.
Taking time off after his team's massive 6-0 win over Ludogorets in the UEFA Champions League 2016-17 game earlier this week, Xhaka visited the Madame Tussauds museum in London and was photographed posing with SRK's wax statue. The footballer even imitated King Khan's trademark folded hands pose -- which is the other thing popular besides the vintage SRK open arms pose.
"Enjoying the free time with my friend Shah Rukh Khan," wrote Xhaka on Instagram.
Xhaka, who signed for Arsenal in a fee worth £35 million earlier this summer, received his first direct red card for the Premier League giants against Swansea City last weekend. He will, therefore, serve a three-match suspension now. Interestingly, Arsenal have decided not to appeal the midfielder's suspension.
It was the Swiss star's eighth red card in two and a half years.
"We are not responsible for the red cards he got somewhere else," Arsenal manager Arsene Wenger was quoted as saying by the Daily Mail. "He made a foul against Swansea which might have got him a yellow or a red card. It was not meant to hurt anybody. It was just a late tackle to stop a counter-attack. He has been punished. But he is intelligent enough to analyse that as well," he added.
Check Granit Xhaka's pose with SRK